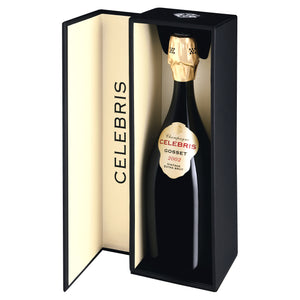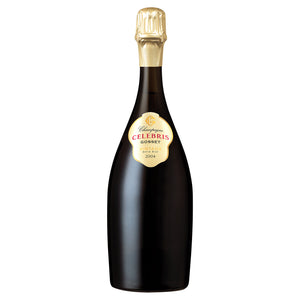 Variety: 55% Chardonnay, 45% Pinot Noir
Country, Region: France, Champagne
Appellation: Champagne
This 2004 vintage, with its incredible balance and complexity, fits naturally into the prestigious CELEBRIS range. This cuvée, which is emblematic of the House, was created in honour of Albert Gosset and is presented alongside its other exceptional vintages (1998, 1990, 1995, 1998 and 2002). Made from 55% Chardonnay and 45% Pinot Noir and with a sumptuous pale yellow robe with flecks of emerald reflecting the high proportion of Chardonnay, this CELEBRIS Vintage 2004 extra-brut releases a continuous fine mousse. On the nose, the maturity of the aromas translates into notes of frangipane, tarte Tatin, honey or salted butter caramel, refreshed by scents of pear, pineapple and even citrus fruits such as the kaffir lime or citrus.
On the palate, it is open and approachable with a persistent tension, underpinned by a salty, almost ozone character which gives way to layered flavours of pear, grapefuit and even Yuzu.

'Gosset's 2004 Extra Brut Celebris is a powerful, bracing wine. Pinot Noir-infused red stone fruits, dried leaves, mint, herbs and spice notes, along with the low dosage, give the wine its distinctive combination of power, breadth and raciness. The 2004 needs a bit of time for the bouquet to open up, but when they do, the wine is quite expressive. Now 12 years after the vintage, the 2004 Celebris offers a good bit of aromatic and flavor intensity, with the slightly mature notes that are typical for a wine of this age. Chamomile, honey and lightly roasted almond are some of the nuances that linger through to the creamy, expansive finish. The 2005 is 55% Chardonnay (from Chouilly, Cramant and Le Mesnil sur Oger) and 45% Pinot Noir (from Aÿ, Bouzy and Verzy). Drink 2016-2026.' 94 points, Antonio Galloni, Vinous, December 2016.

Established since 1584, Gosset is one of the smallest Grande Marque Champagne producers. Whilst the champagnes that they produce have never been plentiful in quantity, they have distinguished themselves with the consistently superb quality throughout the entire range of champagnes produced. Remaining a family owned house, the Gosset family sold the business to the Cointreau family in 1994.
Starting with their flagship champagne, the superbly aged Grande Reserve multi-vintage, it is clear that they have sought to exceed all standards required by the region. Firstly, and most strikingly, the presentation is remarkable in heavy dark antique bottles that are unique to Gosset. Instead of aging this champagne for 3 years on lees before bottling, Gosset have aged this blend for four and half years. After bottling, this champagne is then aged a further 6 months in their cool cellars before they permit this champagne to be sold.
From the superbly smooth and well rounded flavours of the Grande Reserve to the elegance and perfume of the brilliant Grand Rose champagne to the incomparable Grand Millesime vintage it is clear that these champagnes have been conceived for the most demanding champagne enthusiast. Whilst the vintage champagnes are only released in the very best years, the cellaring capacity of Gosset champagnes in those select vintages is well documented. At Gosset malolactic fermentation is avoided to ensure sufficient acidity enabling a long evolution.