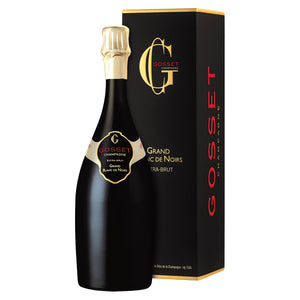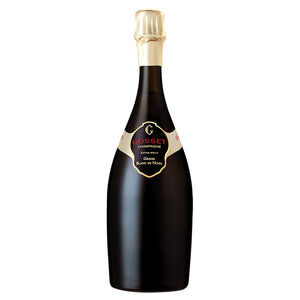 Variety: 100% Pinot Noir
Country, Region: France, Champagne
Appellation: Champagne

100% Pinot Noir from 2007 vintage aged on lees for 9 years bottles with 5 gms/ltr dosage and no malolactic fermentation. Grand Blanc de Noirs is a golden yellow with deep gold flecks. It is translucent and bright, accompanied by a string of extremely fine bubbles. The nose unveils complex and harmonious aromas, reminiscent of white stone fruits along with hints of patisserie.
As it unfurls on the palate, it beautifully displays notes of beeswax and candied citron. The attack is supple and well-balanced. The finish is crisp and fresh with salty, almost iodine, notes, along with a certain minerality and structure. Perfectly balanced between intense aromas and elegant finesse. The fruity structure of the Pinot Noir is expressed with surprising freshness and precision.
'There is tremendous richness and exuberance of pinot noir personality here, fleshy, spicy and generously blackfruited, with gorgeous satsuma plum and black cherry definition. All of the complexity of a decade of age is on grand parade in toasty character and a medium to full straw hue. Like the meunier, it proudly declares its Gosset DNA, confidently flying the house flag of definition and focus. It concludes with fantastic balance and integrity, holding wonderfully rounded, succulent presence with outstanding line and poise.' 94 points, Tyson Stelzer, The Champagne Guide 2020-2021.

'Exclusively made from Pinot Noir cultivated in Ambonnay, Aÿ, Verzy, Chigny-les-Roses and Tauxières, the intensely white-golden colored NV Grand Blanc de Noirs Extra-Brut is deep, intense and rich on the toasty and vinous nose. Full-bodied, round and pure, this is a generous, highly elegant, precise, finessed, fresh and stimulatingly salty cuvée with structure, grip and persistent vinous character. It has very nice reduction and piercing minerality. Tasted in August 2018 from lot L7168111 with a dosage of five grams per liter. Drink 2018-2030.' 94 points, Stephan Reinhardt, The Wine Advocate, November 2018
Established since 1584, Gosset is one of the smallest Grande Marque Champagne producers. Whilst the champagnes that they produce have never been plentiful in quantity, they have distinguished themselves with the consistently superb quality throughout the entire range of champagnes produced. Remaining a family owned house, the Gosset family sold the business to the Cointreau family in 1994.
Starting with their flagship champagne, the superbly aged Grande Reserve multi-vintage, it is clear that they have sought to exceed all standards required by the region. Firstly, and most strikingly, the presentation is remarkable in heavy dark antique bottles that are unique to Gosset. Instead of aging this champagne for 3 years on lees before bottling, Gosset have aged this blend for four and half years. After bottling, this champagne is then aged a further 6 months in their cool cellars before they permit this champagne to be sold.
From the superbly smooth and well rounded flavours of the Grande Reserve to the elegance and perfume of the brilliant Grand Rose champagne to the incomparable Grand Millesime vintage it is clear that these champagnes have been conceived for the most demanding champagne enthusiast. Whilst the vintage champagnes are only released in the very best years, the cellaring capacity of Gosset champagnes in those select vintages is well documented. At Gosset malolactic fermentation is avoided to ensure sufficient acidity enabling a long evolution.