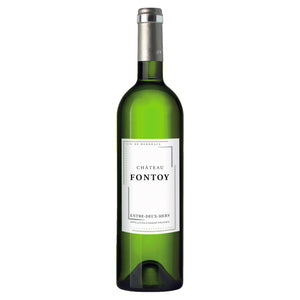 Varieties: 40 % Sauvignon Blanc, 40 % Sémillon, 20 % Colombard
Country, Region: France, South-West France
Appellation: Entre-Deux-Mers

40 % Sauvignon Blanc, 40 % Semillon, 20 % Colombard, from the Château's 24 ha vineyard at Lugasson in Entre-Deux-Mers. Nine to 18 hours skin contact, then cool-fermented with fine lees in stainless steel, followed by further elevage in tank.
Château Fontoy is located at 100 m elevation near Lugasson in Entre-Deux-Mers, the name deriving from an underground fountain source 20 m below the surface. The soils are clay-loams and the estate is certified HVE 3 (High Value Environmental Level 3).
Brigitte Miane is a 7th generation winemaker and with her husband Jean-Baptiste Miane has built the vineyards from 12 ha in 1990 to 35 ha today.