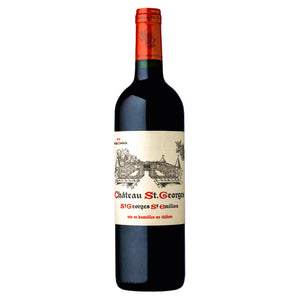 Variety: Merlot, Cabernet Sauvignon, Cabernet Franc

Country, Region: France, Bordeaux
Appellation: Saint-Georges-Saint-Emilion


'The 2018 Château Saint Georges is a terrific choice for an everyday red. Deep and pleasantly rustic, the 2018 packs a good deal of punch. Juicy dark cherry, plum, spice, tobacco, licorice, earthy notes and leather all meld together. This mid-weight St-Georges Saint-Emilion has real personality. Drink 2021-2030.' 89 points, Antonio Galloni, Vinous, March 2021.


The history of Saint-Georges goes back to Gallo - Roman times. The domain extended over 1000 'arpents' which represents 263 hectares and corresponds approximately to the surface of the entire parish of Saint-Georges. The Château Saint-Georges and its land was sold on 27 October 1602 by Henry IV to Jean Barbot for a sum of 1500 pounds. The purchaser attained, in addition, the title of Baron. It was the 'Sieur de Bouchereau' the new and last Baron of Saint-Georges who commissioned the reputed neo-classical architect Victor Louis (Grand Theatre of Bordeaux, Place de Palais Royal in Paris) to reconstruct the feudal château in 1772, keeping nevertheless the four corner towers. If the Revolution spared this jewel of 18th century architecture, phylloxera destroyed its vines and the estate started to go downhill. It passed though the hands of several owners until 19 November 1891 when it was purchased by Pétrus Desbois who restored the vineyards by grafting the French vines with American rootstocks.
The estate has changed hands several times since the French Revolution until it was bought by Petrus Desbois in 1891, to be used as his summer residence. Since then it has remained a private family home and vineyard, carefully nurtured by each generation. The first Petrus Desbois resuscitated the beleaguered vineyards by grafting French vines onto American rootstock. Then in 1945, his son Petrus Desbois took over and it was under his stewardship that Saint-Georges began producing a world-renowned wine. Today, his son Georges Desbois presides over the estate, and creates well-balanced, elegant wines, celebrated for their ability to age.
'Chateau Saint-Georges' is the premier label. It's a blend of 80% Merlot, 10% Cabernet Sauvignon, and 10% Cabernet Franc. 50% of the oak barrels used for aging are renewed each year, and the wine is aged in the barrels for 15-18 months.