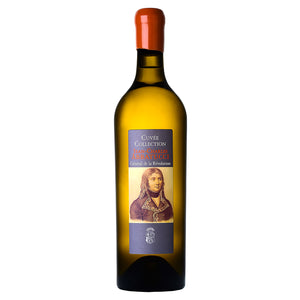 Certified Biodynamic, Integrated Farm
Varieties:
Carcajolo Bianco (Bariadorgia), Paga Debiti (Rollo, cf Rolle), Riminèse (Albana), Rossola Brandinca, Biancone, Vermentino
Country, Region: France, Corsica
Appellation: Vin de France


This cuvée is named for a military hero of the French Revolution of 1789, who became a Brigadier General at age 25 and was killed that same year on the battlefield. His name is engraved as an 'Officer of the Empire' on the Arc de Triomphe in Paris.
Made from an illustrative blend of 25% Carcajolo Bianco (Bariadorgia), 25% Paga Debiti (Rollo, cf Rolle), 20% Riminèse (Albana), 15% Rossola Brandinca, 10% Biancone, 5% Vermentino, all planted in the early 1960s in granite based soils.
Whole-bunch pressed, settled for 24-48 hours and then fermented in old 600 L demi-muids and 1200 L foudres. Matured on full lees for 9 months, then assembled in tank and matured for a further 2 months. Bottled with a light fining and filtration only when necessary.
'Pale yellow color with green reflections, the powerful nose opens with very fresh notes where the aromas of white fruit, butter and citrus accompany the mineral note. On the palate, the freshness and acidity of this wine is balanced by its fat and richness. The aromatic persistence is long and very complex. The aromas of wood are discreet and highlight its minerality very well.'
Jean-Charles Abbatucci, Winemaker.
Review for the 2010 vintage:
'Just to get this out of the way up front, Abbatucci's 2010 Cuvee Collection Blanc General de la Revolution Jean-Charles Abbatucci – his only white in this series from ancient cepages that I've tasted (but then on two disparate occasions, having had to pinch myself the first time) is among the handful of most profoundly (not to mention improbably) beautiful and delicious white wines that I've tasted in the past several years. Vinified in older demi-muids – whereas most wines from Domaine Abbatucci, regardless of color, are rendered in tank – it's sourced (for the record) from Carcajolu Biancu; Paga Debbiti; and diminishing shares – ranging from 15-5% – of Riminese; Rossola Brandica, and Vermentinu. If you're inclined to shake your head when my ilk go on about sticking one's nose in a glass and smelling the scrubby, herbal, and floral ambience in which the wine grew and perhaps even the bracing mountain air itself (all of which would in Corsica fall under the term maquis), this wine might make a believer of you. Amid a persistent effusion of thyme, gorse, tarragon, mint, lavender, wild chrysanthemum and ineffable others comes an uncannily buoyant wave of creamy yet refreshing essence of raw almond and pine nuts in a melon and citrus matrix. The effect is cooling and soothing, yet refreshing and (in more than one sense of that word) uplifting, with a finish whose mesmerizing flavor interplay is almost ceaseless. The first edition of this roughly 1,500-bottle cuvee came in 2006. So even if I had experience from its inception, I doubt I would be positioned to predict longer-term bottle evolution. But I'm pretty confident that evolution will be positive. (Since this wine is legally forbidden from advertising its vintage, you'll need to verify that from the first two digits that appear in tiny print on the label after the capital letter "L." The additional numerals identify the specific lot number, but needless to say there is but a single bottling of this rarity.)'
96

points, David Schildknecht, The Wine Advocate, February 2013.
The Domaine Comte Abbatucci Collection wines all come from a single parcel planted by Antoine Abbatucci in the early 1960's. At the time, Antoine (Jean-Charles's father) was president of the Chamber of Agriculture in Corsica, and noticed that the subsistence farming lifestyle of the mountain villages was rapidly disappearing as the villagers left the countryside for the coastal towns. Several villages farmed old vines of indigenous varietals that were left abandoned as the population left. To save these varietals from extinction, Abbatucci took cuttings of each threatened vineyard he came across and planted the cuttings on his estate near Ajaccio, in a single plot of granite soil. By 1962, eighteen different varieties had been planted. More recently, Jean-Charles has begun propagating the vines using 
séléction massale
 on his own estate, as well as supplying cuttings to other vignerons all over Corsica. He blends these native grapes from the original plot planted in the 1960's together into four different cuvées, each one named after an ancestor (except for the Barbarossa which is named for the grape varietal). All of these cuvées have exceptionally low yields to produce a mere 1,500 - 3,000 bottles.
'Collectively, Abbatucci's wines will stretch your palate, your imagination, and even your notions about what wine is or can be. (And you'll have fun drinking them.)' David Schildknecht, The Wine Advocate, February 2013.


'Abbatucci's wines are out of this world.' Olivier Poussier, World's Best Sommelier, 2000.

Domaine Comte Abbatucci extends over 100 ha of granite sandy slopes, located in the southern part of Corsica in the Taravo valley. Among the estate's 100 hectares, there are 18 ha of vines at about 100m above sea level but you will also find fruit trees, vegetables, olive trees and sheep which have all been farmed bio-dynamically since 2000.
The estate is one of the oldest vineyard plantations in Corsica and has been chosen to study and experiment the reproduction of ancient vine varieties. The estate grows a wide range of indigenous varieties including Niellucio and Sciacarello as well as the more obscure Morescola, Morescono, Aleatico, Carcajolo Nera, Montanaccia. Life on the estate is regulated by the rhythms of the sun, moon and the planets. The grapes are said to develop in health and harmony with the assistance of traditional Corsican polyphonic music played over loudspeakers.
If it wasn't for Antoine Abbatucci, most of the grapes now grown by his son, Jean-Charles, might well not exist. In the 1960s, local Corsican grapes were being rapidly replaced by international competitors. Antoine was charged with preserving these varieties and, using a hectare of land, created a ampelographic station and saved the fate of 18 of them.            
When Jean-Charles took over in 2000, he began grafting these old varieties onto the existing vines, and then started to grow them biodynamically. Today, 14 of those varieties can be found at Domaine Abbatucci, and there are now around 18 hectares of vines, which are planted on granite slopes 100 metres above sea level. They thrive in an ecosystem in which a wide variety of flora and fauna grow beside the vines, adding to the ecological diversity, an important part of bio-dynamic viticulture. In the winter, a herd of sheep comes to the land, and there is also a herd of striped "tiger cows". The cows are bred by Jean-Charles's brother, Jacque, and eaten at the restaurant run their other brother, Henri. The vines are punctuated by shrubs and olive trees.
The estate produces around 1,500- 3,000 bottles of each type of wine from these old heirloom varieties, so you'll have to hurry if you want to experience the unique qualities of grapes that were raised from the dead. Today Jean-Charles' wines are recognised by experts all over the world as wines that preserve the very particular and original flavours of Corsican terroir.