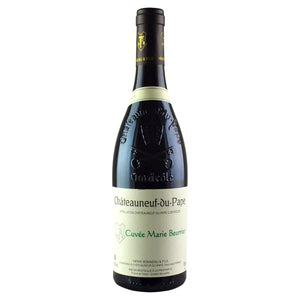 Variety: 90% Grenache, 10% Mourvedre, Counoise and Vaccarese
Country, Region: France, Rhone Valley
Appellation: Chateauneuf-du-Pape

'In 2003, there will only be a Chateauneuf du Pape Cuvee Marie Beurrier. This cuvee has gotten better year by year. It was overly dry, hard, and austere in its youth, but it has filled out nicely, and his incredibly long elevage in old small barrels appears to have concentrated the wines in a way that only Bonneau can achieve, and neither Bonneau nor any modern oenologist can offer an idea as to why these wines turn out so remarkably given the cellar conditions. There are so many unidentified mushroom-like growths sprouting from the walls and, occasionally, on the outside of the barrels. Thank God for such mysteries! Henri Bonneau recently celebrated his 50th vintage of Chateauneuf du Pape, and no one can argue that he is the appellation's greatest guardian of traditional winemaking. How does one describe an Henri Bonneau Chateauneuf du Pape? Perhaps the best description is that it represents a liquified charcoal-grilled steak heavily crusted on the outside, blood red on the inside, sprinkled with Provencal herbs, and doused in black pepper. Bonneau does not decide on what will go into his first wine, the Reserve des Celestins, or the second wine, Cuvee Marie Beurrier, until a year before the wines are bottled. As I have indicated, all of the wines listed above are "potential" cuvees, with the exception of the 2003 Marie Beurrier. (No 2003 Reserve de Celestins was produced.) (90-93) points, Robert Parker Jr, The Wine Advocate, October 2008.
'Discreet yields, combined with a mild infusion of Grenache and a rise to its measure, give slender body wines, subtle showing the size of the cuvees Marie Beurrier and Réserve des Célestins. More than ever, the notion of homage seemed to make sense. Scents of kirsch and leather sign a subtle nose and already very fulfilled. Texture with moderate power, round as often with the Marie Beurrier vintage. Tasty final, cocoa note and very good aromatic persistence.' John Gilman, A View From The Cellar.

'The Bonneau wines rest alone at the absolute summit of the appellation, and to a certain degree, they transcend it in much the same way that Château d'Yquem does in Sauternes.' John Gilman, A View From The Cellar.
 Henri Bonneau (1938-2016) was 12th generation of a family of wine growers. He made his first vintage in 1956. His domaine covers only 6.5 ha., mainly planted with Grenache that counts for about 90% of the blend added with small amounts of Mourvèdre, Counoise and Vaccarèse. He feels Syrah is not suited to Châteauneuf-du-Pape and he also distrusts new clones and does not like vines that are over 50 years old finding 30 to 50 years to be ideal.
Up to 5 different red wines are produced here depending on the vintage and the evolution of the wines.  His decision about cuvées is taken several years after the harvest - just before bottling. The blend of the four cuvées and the treatment in the cellars are not differing. With 13 different plots the largest is situated in La Crau with another situated in Grand Pierre beside Rayas and it's probably from these vineyards the best cuvées are selected. Bonneau also has 3.5 ha of vines west of the Rhone in the Gard which goes to make his similarly styled vin de table Les Rouliers which is usually a blend of 2 vintages and which can also contain some de-classified Châteauneuf-du-Pape.
The vinification and ageing of the wines is in fact very simple. When the fermentation in cement tanks is finished the wine goes into a mixture of foudres, demi-muids and small old barrels from Burgundy. Here it stays until Bonneau finds it ready to be bottled - maybe after 6, 8 or 10 years. The grapes are rarely de-stemmed and the wines are fined with egg whites before bottling. Henri Bonneau's ageing cellars are from the 17th century and are legendary. You can't find a barrel there less than 10 years old and most of them are very ancient. When you walk around these tiny cellars you feel you are visiting a museum. This is classic, old-style Châteauneuf-du-Pape made as it was several hundred years ago.