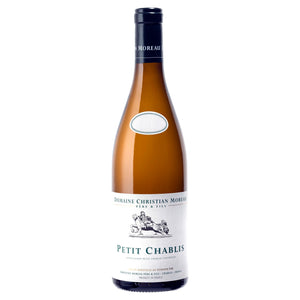 Certified Organic
Variety: Chardonnay
Country, Region: France, Burgundy
Appellation: Petit Chablis

From vines located at the top of the hill of Grand Crus only metres from the Grand Valmur and also this year this wine includes another 0.4 ha planting also at the crest of the hill of Grand Crus (just above Vaudesir) that the Moreau family have planted more recently.

This wine shows amazing depth and detail and provides remarkable value. An absolute bargain but unfortunately a very small vineyard and very limited quantities available as this is their smallest holding (after the tiny 0.41 ha of Clos des Hospices dans Les Clos). Sells out very quickly! 
One of the oldest and most respected names in Chablis with superb vineyard holdings reflecting the family's very long history in Chablis, this branch of the Moreau family is headed by Christian and now his son Fabien who is the winemaker and manager.

Possessing magnificent vineyard holdings built up in some of the very best vineyard areas of Chablis by the family over generations (including nearly 8 hectares out of Chablis' total 92 hectares of Grand cru), this small but remarkable estate has in just a few years established itself as one of the leading producers of Chablis producing consistently outstanding wines.

With relatively small (but very well sited) holdings in Petit, village and 1er cru Chablis, the highlights here are undoubtedly the amazing range of Grand cru vineyards including one single holding of approximately 3 hectares in Les Clos as well as .41 hectares of Clos des Hospices dans Les Clos plus slightly smaller holdings in Valmur, Blanchots and Vaudesir.

A combination of exceptional vineyard sites, old vines, brilliant wine-making and fastidious care in every step of production has resulted in these wines being regarded as amongst the very best produced in Chablis. Now the wines are gaining in even clearer expression with the vineyards having been certified organic since 2013 and together with some new tanks and other investments the results are showing clearly in the wines with each vintage. These are wines of precision, crystal clear typicity, and elegance, that will age classically while enabling tremendous enjoyment throughout their lives.