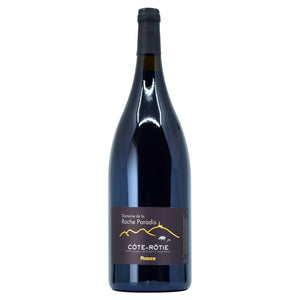 Organic
Variety: 100% Syrah
Country Region: France, Northern Rhône Valley
Appellation: Côte Rôtie


Made from 100% Syrah in the lieu-dit of Rozier (Côte Brune) with a perfect south-west exposition from 21 year-old vines. The wine was fermented with about 50% whole bunches and then matured for 13 months in 1, 2 and 3 year-old barriques. A very fresh and aromatic style of Côte Rôtie from soils of schist and brown, iron oxide-rich clay on this superb site. How great Côte Rôtie used to be, elegant and perfumed, with lovely mid-palate volume and a long complex finish, framed by fine silky tannins and refreshing acidity. Only 120 dozens produced.
Domaine de la Roche Paradis
'Yann Menager has set out to farm in the way that previous generations did. The vineyards are tended organically, grapes hand harvested, ferments done naturally with indigenous yeasts using some whole bunch in the ferments. He farms not just grapes but also goats, sheep, chickens and vegetables which are used at his mothers table d'hote which is within walking distance of his families farm and hamlet where they live. To stop for lunch at his mothers tiny table d'hote and savour her terrific cuisine with his handmade wines while also enjoying the breathtaking view is an absolute treat and always a highlight of any visit to this part of the northern Rhone.'
Yann Menager is the owner and winemaker for this small new domaine based in Saint-Joseph just south of Condrieu. He has been the vineyard manager for Yves Cuilleron for the last 17 years and right now still works most days in that role. Using his knowledge of the great vineyard sites in the northern Rhône, Yann has purchased some superbly sited vineyards to start producing tiny quantities of his own wines from his own vineyards. To date he has acquired holdings of 6.5ha in Saint-Joseph, Condrieu and Côte Rôtie. His goal is to make the wines as simply as possible, with minimum intervention and a focus on purity. To that end he aims to keep his production small, with just a five to ten barrels of each wine produced each year. Needless to say the wines will remain a confidential secret as very little gets exported and most is consumed in some of the best restaurants of the region in Lyon and nearby.
His tiny winery is located in a quaint old stone barn high above the vineyards of Saint Joseph on his family's farm in the tiny hamlet of Champailler at 798m elevation, below the aptly named Roche Paradis. The vineyards are tended organically. picking is done by hand, yields are kept low at around 35 hl/ha or less and all wines undergo natural (native yeast) ferment and natural malolactic conversion. The result is a range of wines that show superb energy and balance, with a freshness and finesse that harks back to a day before super-extraction and lots of new oak became de-rigueur in the Northern Rhône. These are beautifully fresh fine terroir driven wines that speak only of the soils they are grown in. These are the style of wines we have been looking for in the Rhone for ages. Yann is equally adept with both red and white wines.