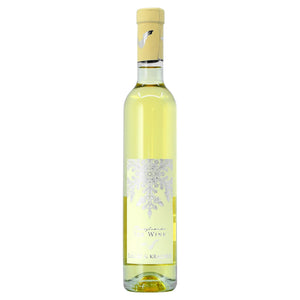 Country, Region: Romania,

Transylvania
Appellation: Transylvania

100% Fetească Regală
10.5 % Alc/Vol; 154 g/l RS; 8.24 g/l TA.
Ice Wine (Eiswein) is made from grapes frozen on the vine. For best results the grapes need to be hard frozen at temperatures of -8°C or less, which makes waiting for a suitable cold snap very risky. 
The fruit is hand-picked and whole-bunch pressed while frozen, so that the ice (water) is removed, thus dramatically increasing the concentration of sugars and flavours in the grape. The pressed juice is then fermented and matured for 16 months in stainless steel tanks.
The aim with Ice Wine is to produce a wine with all the power and sweetness of a Beerenauslese or a Trockenbeerenauslese, but without the influence of botrytis (though occasionally some botrytis can occur).
2017 review 'This is a joint venture between Rudolf Krizan, the winemaker at Liliac in Romania, and Gerhard Kracher of Austrian fame. Kracher, indicating that climate change makes it "harder and harder to produce ice wine in the Burgenland," joins Krizan in making a wine in Romania, where, they thought, "this region offers the perfect conditions to produce this kind of wine every single year."' Stephan Reinhardt, The Wine Advocate, December 2017.
'Gerhard Kracher, genius of the Trockenbeerenauslese category. In the late 1980s and up to his early death in 2007, Alois Kracher handcrafted some of the greatest noble sweet wines of the world. His annual collections of numbered TBAs (Trockenbeerenauslesen), produced in Illmitz at the lake Neusiedl, became legends and were often presented along with the finest sweet wines from Sauternes (namely Château d'Yquem), Tokaji (Szepsi) and Mosel-Saar-Ruwer (Egon Müller, Joh. Jos. Prüm). Alois's son Gerhard Kracher has managed to maintain the extremely high level of quality.' Stephan Reinhardt, The Wine Advocate, February 2018.
There are no secrets to the production of Kracher's unparalleled range of remarkable sweet wines, headlined of course each year by up to a dozen or more trockenbeerenauslese cuvées. For three generations the Kracher family has led the way in the Seewinkel, that corner (winkel) of Austria to the east of Lake Neusiedl, just an hour's drive from Vienna. It was Alois Kracher Senior, back in the '50s and '60s who first realised the potential of the area for quality wine growing. Then in 1991, Alois Junior (Luis) set the world on fire with his 'new' style of dessert wine, focussing on finesse and balance more than just outright sweetness. From there he went on to win the British Wine Journal's 'Winemaker of the Year' title 5 times, before his untimely passing in 2007.

Luis' son Gerhard has now been running the estate for a decade and has deftly picked up where his father left off, winning the International Wine Challenge 'Sweet Winemaker of the Year' award in 2009. Each year though, the recipe remains the same, driven by a relentless attention to detail. In the vineyard yields are kept incredibly low with each vine limited to just 3 bunches of grapes. In the cellar, each individual parcel is vinified separately, often in lots as small as a hundred litres or so. Malolactic fermentation is avoided to retain the grapes' high natural acidity and sulphur use is kept to a minimum. Two styles of TBA are produced: Zwischen den Seen (between the lakes), vinified in stainless steel or large oak casks; and Nouvelle Vague (new wave), vinified in French oak barriques.
Alongside the world-famous TBAs, Kracher also makes a vibrant Auslese Cuvée, that is both great value and great drinking, an always brilliant Beerenauslese Cuvée and an exciting new Ice Wine from the hills of Transylvania in Romania. And although sweet wines have long been Kracher's forte, today its dry wines are earning considerable acclaim, with its Pinot Gris, Welschreisling and Zweigelt gaining an enthusiastic following for quality and outstanding value.
What makes the wines so special?
The Seewinkel is an area in the Burgenland region of eastern Austria, approximately 20 km wide, along the eastern shore of Lake Neusiedl. It is an immense plain, with countless shallow lakes of various sizes scattered throughout it. Most of these lakes, including the largest, Lake Neusiedl, are less than two metres deep. The Pannonian (continental) climate brings hot dry summers and very cold winters and it is these extremes that create a unique climate for viticulture. During cool autumn evenings, evaporation from the numerous lakes creates heavy fog, which covers the area until midday when the still strong sunlight burns through. This helps to create the necessary conditions for the formation of the noble rot, botrytis cinerea, that is the key to the immense concentration, sweetness and complexity of the greatest sweet wines.