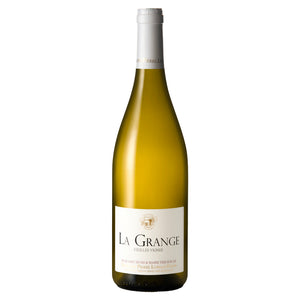 Variety: Melon (de Bourgogne)
Country, Region: France, Loire
Appellation: Muscadet Sèvre et Maine sur lie

From more than thirty five year old vines grown on mica-schist in the village of Le Landreau. Hand harvested and aged on lees for 7 months. On the palate the wine is fullish, complex and beautifully focused, with solid mid-palate depth, nice framing acids and very good length on the classy finish.
review for 2018 - 2020 not yet reviewed
'These vines were planted in 1974, on a terroir of schist and micaschist, in Le Landreau. The vinification is traditional, in subterranean cuve, and it was bottled in April 2019. It presents a smoky and minerally character on the nose, which parts to reveal orange pip and apricot stone. The palate feels softly polished, very welcoming as we might expect from the vintage, with a delicate acid backbone running through the middle which gives it some sense of balance. A charming style, with attractive bitterness adding interest, but carrying the softer structure of the vintage.' 91 points, Chris Kissack, The Wine Doctor, February 2020.
Domaine Luneau-Papin
One of the leading domaines of the Nantais, Pierre Luneau-Papin, hails from a long line of vignerons. The Luneau family is well established in the region; their presence here may be traced as far back as the late 17th Century and Pierre Luneau is the thirteenth generation of his family to bear the name Pierre. Pierre and Monique, his wife, are the seventh generation of vignerons to run Domaine Luneau-Papin, which was founded by Pierre's forebears in the 18th Century.

Having studied at Briacé and gained experience with Emile Peynaud and Pascal Ribéreau-Gayon, both of the Faculty of Oenology at the University of Bordeaux, it is perhaps no surprise that Luneau-Papin is one of Muscadet's leading lights. In his immaculate winery, Pierre proceeds to vinify in small batches according to the origin of the fruit. The harvest is done by hand, also a rarity in the region, to avoid any oxidation before pressing. There is an immediate light débourbage (separation of juice from gross lees), then a 4-week fermentation at 20 degrees, followed by 6 months (or longer for some cuvées) of aging in stainless-steel vats on fine lees. This is the classic Muscadet-sur-lie process, where the wine is kept on its lees, with a fair amount of CO2 as protection, until bottling in the spring following the harvest. The only modern technique used here is macération pelliculaire (maceration of lightly crushed berries before pressing), which varies in proportion according to the cuvées.

The family estate now consists of approximately 40ha, with 38ha planted to Melon de Bourgogne located about 20 kilometres from Nantes itself. This is a landscape characterised by gently rolling vineyards and a remarkable variation of terroirs, which include micaschist, gneiss and schist and other rocks of volcanic origin, as well as the sandy soils that first spring to mind when thinking of the region. The vines have a good age, 45 years on average although some are well into their seventh decade. The wines produced at this estate are strikingly pure, with each cuvée expressing its unique soil-signature. They never fail to impress.