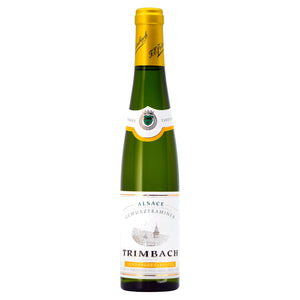 Practising Organic
Variety: Gewurztraminer
Country, Region: France, Alsace
Appellation: Alsace Vendanges Tardives


'Luminous yellow-gold. Enticing, showy aromas of peach nectar, honey, crystallized pineapple and sweet spices; spicy botrytis notes (nail polish, ginger) emerge with aeration. Silky-sweet and dense, offering ripe apricot, soft citrus and honey flavors nicely lifted by ripe acidity and complicated by a repeating spicy nuance. Finishes long and suave. This is a selection of grapes from the same sites as the Cuvée des Seigneurs de Ribeaupierre. Mostly made by passerillage (air-dried grapes) in 2017, but there was also a small presence of noble rot that is especially obvious on the nose (the hint of nail polish and exotic fruit notes). This will go on sale by 2020 (as no 2016 VT was made, Trimbach will release this wine a little sooner than usual).' 94 points, Ian D'Agata, Vinous Media, January 2019.


'Trimbach is at the summit of dry white winemaking.' Clive Coates M.W.
'Clos St Hune, the Alsace Riesling by which all others are judged.' Andrew Jefford.
With viticultural origins going back to 1626 this family owned estate produces some of the finest wines not only of Alsace, but indeed the entire world of wine. Around the villages of Ribeauvillé and Hunawihr, the Trimbach family owns 27 hectares of vineyards including 1.67ha of Rosacker Grand cru (which produces the highly famed Clos Sainte Hune Riesling) as well as parcels of Geisberg and Osterberg (blended to make the equally renowned Riesling Cuvée Frédéric Emile). Geisberg and Osterberg are located on the hill rising up behind the 'new' family winery on the edge of Ribeauvillé. The family moved from their 'old' winery in Hunawihr in the 1890's! Indeed, the label of Clos Sainte Hune depicts the view to the local church from the old winery in Hunawihr.
According to Jean Trimbach, the house style is aiming for 'harmonious wines that are concentrated, not heavy; fruity, not sweet; bracing rather than fat; polite rather than voluptuous.' To that end, fermentations are cool and slow, maloloactic fermentation is not carried out and the wines are bottled early to retain freshness.
The dry Rieslings are usually made with less than 5g/l of residual sugar, whereas the dry Gewürztraminers might carry up to 10g/l. The wines are then aged in the cellar for at least one year; up to 5 years or more for the top wines. Even the richer Vendanges Tardive and Selection de Grains Nobles wines are made with more restraint than is usual in Alsace more generally: VT Rieslings typically carry 15-40g/l; VT Gewürztraminer around 50-75g/l; and SGN typically from 100g/l.