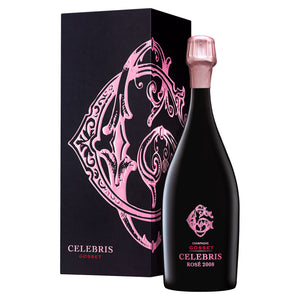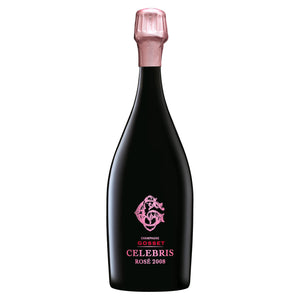 Variety: 72 % Chardonnay, 28 % Pinot Noir, of which 8 % is red wine
Country, Region: France, Champagne
Appellation: Champagne

This exceptional cuvée is distinguished by its rarity. This vintage is only the fourth edition of Gosset Celebris Rosé in the past 25 years, after the Celebris Rosé 1998, 2003 and 2007.

Time is part of the essence and personality of Celebris. It contributes to the expression of the style of this rare cuvée.
The 2008 Celebris Rosé is a blend of 72 % Chardonnay and 28 % Pinot Noir from the villages of Ambonnay, Avize, Aÿ, Bouzy, Cramant, Cuis, Cumières, Trépail, Vertus, and Villers-Marmery. Included in these percentages is 8 % Pinot Noir red wine from the villages of Ambonnay, Bouzy and Cumières.
Tiraged: June 2009
Disgorged: April 2021
Dosage: 6.5 g/l
'It took us thirteen years of work to strike the right balance with this cuvée.' Odilon de Varine, Gosset's Cellar Master.
Colour
A cristal-clear, luminous coppery shade that points to the many years spent ageing in cellars.
Nose
Strawberry jam, with some spicy notes, lingering on with ripe summer fruits (peach, nectarine, apricot).
Palate
A full-bodied tautness, with flavours of ripe black cherry shot through with a blood orange note that provides a flash of enticing tangy freshness. Finishes with a stimulating minerality that recalls the majority of Chardonnay in the blend.
Food
This cuvée pairs well with mushrooms, foie gras, poultry, lobster, strawberries, and citrus fruit. Give your creativity and sense of adventure free rein and experiement with any other pairing you may wish to try. 
Established since 1584, Gosset is one of the smallest Grande Marque Champagne producers. Whilst the champagnes that they produce have never been plentiful in quantity, they have distinguished themselves with the consistently superb quality throughout the entire range of champagnes produced. Remaining a family owned house, the Gosset family sold the business to the Cointreau family in 1994.
Starting with their flagship champagne, the superbly aged Grande Reserve multi-vintage, it is clear that they have sought to exceed all standards required by the region. Firstly, and most strikingly, the presentation is remarkable in heavy dark antique bottles that are unique to Gosset. Instead of aging this champagne for 3 years on lees before bottling, Gosset have aged this blend for four and half years. After bottling, this champagne is then aged a further 6 months in their cool cellars before they permit this champagne to be sold.
From the superbly smooth and well rounded flavours of the Grande Reserve to the elegance and perfume of the brilliant Grand Rose champagne to the incomparable Grand Millesime vintage it is clear that these champagnes have been conceived for the most demanding champagne enthusiast. Whilst the vintage champagnes are only released in the very best years, the cellaring capacity of Gosset champagnes in those select vintages is well documented. At Gosset malolactic fermentation is avoided to ensure sufficient acidity enabling a long evolution.