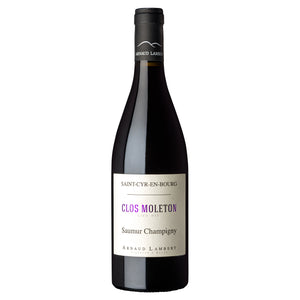 Organic (in transition to bio-dynamic)
Variety: Cabernet Franc
Country, Region: France, Loire
Appellation: Saumur Champigny


100% Cabernet Franc from a very small site planted in the 1980's with vines averaging about 40 years old on heavy clay (30-50cm deep) with silt and sand over Turonian Superior limestone bedrock. 100% destemmed and natural-yeast fermented with gentle maceration by infusion (gentle punch-downs if needed) and aged on lees in barrel for 18- 24 months (30% new oak and 70% 1 to 2 year old barrels) before being racked to tank for a further 8 months to blend with the sulphur added (35mg/L total S02) at bottling with no fining or filtration.
"His earlier-drinking wines include Terres Rouges and Clos Mazurique, but things really start getting interesting with the Montée des Roches, Clos de l'Etoile and Clos Moleton cuvées. He shows a sensitive hand when it comes to oak and captures ripeness without opulence. Arnaud Lambert is a domaine in the ascendancy." Rebecca Gibb M.W., Vinous Media, June 2022
"The 2019 is a ripe yet balanced style offering the light to medium-weight style that is so classic of Saumur-Champigny. Clos Moleton is a terroir made of clay over limestone. The silken, soft, roumdness of clay shows on the mid-palate but the limestone bedrock is just 60cm below the surface. The tannins provide a mass of finely textured chalkiness. Young, primary in style with a fine line of acidity that acts like an arrow through the mouth carrying the black cherry, raspberry, olive tapenade and rosemary-like fragrance on and on. Far too young to drink, give this at least 5 years but based on this site's history, best consumed at 8-20 years." 95 points, Rebecca Gibb M.W., Vinous Media, June 2022
'Brézé is on the rise, today producing some of the most arrestingly mineral, intense Chenin Blanc on the planet. For at least 500 years, these vines produced some of the most profound wines of France. They were regularly exchanged, barrel for barrel, with Chateau d'Yquem, the nectar like sweet wine from Bordeaux that sells for thousands of dollars a bottle. They were a favourite at Versailles under the Sun King, Louis XIV. Today, out of 400 hectares (980 acres), only 4 producers are bottling wines as Brézé, accounting for about 10% of the vineyard area. Arnaud Lambert has 21 hectares, and makes stunning single vineyard whites from Clos du Midi, Clos David and Clos de la Rue. These are precise crystal sharp wines in their youth, with enough snap to shock the tongue, but still posses the weight and resonance to expand and slightly soften with age. The reds come from Clos de L'Etoile and Clos Mazurique. While differences in each vineyard lead to wines of distinctive character, Lambert's style arcs toward grace. His wines are stripped down and elemental, ripped with acidity and verve. They plug into the electricity of Brézé's limestone soils.' Rajat Parr, The Sommeliers Atlas of Taste
Historically, Saumur or more precisely Brézé, has been a reference point for fine French wine as royalty exchanged these wines annually for Château d'Yquem Sauternes. Such has been the reknown for the magnificent hill of Brézé over the centuries, and once again attention is turning to this great hill as a source of incomparable whites that are often compared with Montrachet the greatest of white Burgundies. Brézé is a unique site due to its relatively high elevation and eminently nuanced geological profile with its limestone subsoil proving to be perfectly suited to Chenin blanc for much of the site. The significant presence of tuffeau, (a porous, chalky limestone also used in the construction of much of the Loire's Renaissance architecture) results in finely mineral Chenin Blanc and Cabernet Franc. Clay and sand also lend themselves to the diversity of the terroirs, giving body to the reds and richness to the whites. Arnaud's driving ambition is to truly understand and reveal the distinctions within this extraordinary appellation.
Arnaud Lambert is helping to discover the expression and diversity of soils and individual sites (terroirs) in the appellations of Saumur and Saumur-Champigny. The goal is to give expression to each individual terroir and realise each vineyard sites potential through organic viticulture (transitioning to bio-dynamic) and minimal intervention wine-making. Even though he works a total of 40 ha of vineyards in these 2 villages, the local cooperatives control nearly 70% of the surface area in Brézé and Saint Cyr and mass-produced crémants still dominate the region.