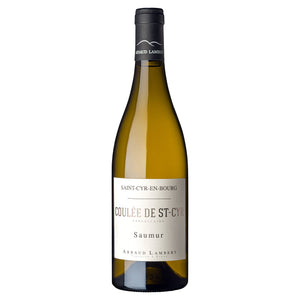 Organic (in transition to bio-dynamic)
Variety: Chenin blanc
Country, Region: France, Loire, St Cyr en Bourg
Appellation: Saumur 


From vines averaging 70 year old on about 30cm of clay over limestone. Vinified with indigenous yeast after separating free run and press juices and aged on fine lees for 12 months in a combination of older foudres and barrels. The wine is then returned to tank for another 8 months of ageing on fine lees. This is deep and complex with a touch of noble reduction giving more than a nod to Burgundy in terms of texture and structure. Bottled unfined and unfiltered.

2018 review 'From an east-facing 1.7-hectare plot (Les Perriéres) on top of the SCB hill, the 2018 Saumur Saint-Cyr-en-Bourg Coulée de St-Cyr opens with a deep, pure, yet intense and complex bouquet of ripe fruits intertwined with notes of crushed limestone and popcorn. Pure, refined and salty on the palate, this is a full-bodied, quite rich yet tight, fresh and persistently salty Chenin with fine yet sustainable tannins and a lot of nervy lime juice, salt and tension. This is a fantastic Chenin from limestone terroir (topped with a 50-centimeter layer of clay and salt) that is normally used for Cabernet Franc. I tasted the wine from the same bottle over 14 days, and I'd say the wine got finer and finer.'  
93 points Stephan Reinhardt, The Wine Advocate, October 2021.
'Brézé is on the rise, today producing some of the most arrestingly mineral, intense Chenin Blanc on the planet. For at least 500 years, these vines produced some of the most profound wines of France. They were regularly exchanged, barrel for barrel, with Chateau d'Yquem, the nectar like sweet wine from Bordeaux that sells for thousands of dollars a bottle. They were a favourite at Versailles under the Sun King, Louis XIV. Today, out of 400 hectares (980 acres), only 4 producers are bottling wines as Brézé, accounting for about 10% of the vineyard area. Arnaud Lambert has 21 hectares, and makes stunning single vineyard whites from Clos du Midi, Clos David and Clos de la Rue. These are precise crystal sharp wines in their youth, with enough snap to shock the tongue, but still posses the weight and resonance to expand and slightly soften with age. The reds come from Clos de L'Etoile and Clos Mazurique. While differences in each vineyard lead to wines of distinctive character, Lambert's style arcs toward grace. His wines are stripped down and elemental, ripped with acidity and verve. They plug into the electricity of Brézé's limestone soils.' Rajat Parr, The Sommeliers Atlas of Taste.
Historically, Saumur or more precisely Brézé, has been a reference point for fine French wine as royalty exchanged these wines annually for Château d'Yquem Sauternes. Such has been the reknown for the magnificent hill of Brézé over the centuries, and once again attention is turning to this great hill as a source of incomparable whites that are often compared with Montrachet the greatest of white Burgundies. Brézé is a unique site due to its relatively high elevation and eminently nuanced geological profile with its limestone subsoil proving to be perfectly suited to Chenin blanc for much of the site. The significant presence of tuffeau, (a porous, chalky limestone also used in the construction of much of the Loire's Renaissance architecture) results in finely mineral Chenin Blanc and Cabernet Franc. Clay and sand also lend themselves to the diversity of the terroirs, giving body to the reds and richness to the whites. Arnaud's driving ambition is to truly understand and reveal the distinctions within this extraordinary appellation.
Arnaud Lambert is helping to discover the expression and diversity of soils and individual sites (terroirs) in the appellations of Saumur and Saumur-Champigny. The goal is to give expression to each individual terroir and realise each vineyard sites potential through organic viticulture (transitioning to bio-dynamic) and minimal intervention wine-making. Even though he works a total of 40 ha of vineyards in these 2 villages, the local cooperatives control nearly 70% of the surface area in Brézé and Saint Cyr and mass-produced crémants still dominate the region.