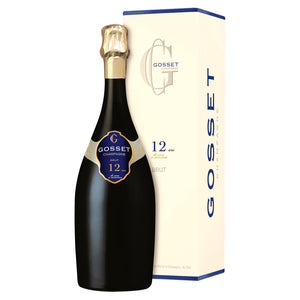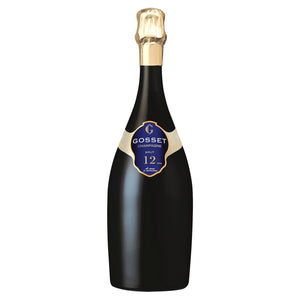 Variety: 51% Pinot Noir, 49% Chardonnay
Country, Region: France, Champagne
Appellation: Champagne


51% Pinot Noir, 49% Chardonnay; from Avize, Cramant, Le Mesnil-sur-Oger, Villers-Marmery (Chardonnays) and Aÿ, Louvois, Ambonnay, Bouzy, Verzy(Pinot Noirs); 7g/L dosage.
Vinified and aged on lees on the lees avoiding premature oxidation. Malolactic fermentation carefully avoided in order to preserve the natural fruit character of the wines in vats and ensure they are perfectly preserved. Brut dosage (7g/l) the balance between freshness, fruitiness and vinosity whilst keeping the character of the wine and its purity. Aged 12 years in the cellar to obtain a complex and fruity wine.
'Aged for at least 12 years after bottling, this Champagne is richly textured, showing mature fruitiness, touches of aging from the brioche flavors and an elegant, ripe aftertaste.' 95 points, Roger Voss, Wine Enthusiast, December 2020.
'This is a brand new cuvée from Champagne Gosset, which is from the base year of 2006. The cépages is fifty-one percent pinot noir and forty-nine percent chardonnay, with the blend augmented with eight percent of reserve wines. It was aged sur latte for twelve and a half years prior to disgorgement in December of 2019 and finished with a dosage of seven grams per liter. The bouquet is deep, complex and nicely refined with age, wafting from the glass in a classy blend of apple, white peach, fresh-baked bread, a refined base of chalky soil tones, dried flowers and a smoky topnote. On the palate the wine is pure, full-bodied and beautifully resolved today, with a deep core of fruit, excellent soil signature and grip, elegant mousse and a long, complex and perfectly balanced finish. This is drinking beautifully, but has decades and decades of life still ahead of it. Superb juice. 2020-2055+' 94 points, John Gilman, View from the Cellar, January 2021.
'Based on the 2006 vintage and disgorged in December 2019, the inaugural release of Gosset's new NV Brut 12 Ans de Cave a Minima wafts from the glass with a lovely bouquet of candied peel, warm biscuits, yellow orchard fruit and brioche. Medium to full-bodied, fleshy and enveloping, it's bright and incisive, with beautifully integrated acids, a delicate pinpoint mousse and a long, sapid finish. Gosset's racy style has really synergized with the ripe vintage and long sur lattes maturation to make for a very successful cuvée. Drink 2020-2035.' 93 points, William Kelly, The Wine Advocate, May 2020.
Established since 1584, Gosset is one of the smallest Grande Marque Champagne producers. Whilst the champagnes that they produce have never been plentiful in quantity, they have distinguished themselves with the consistently superb quality throughout the entire range of champagnes produced. Remaining a family owned house, the Gosset family sold the business to the Cointreau family in 1994.
Starting with their flagship champagne, the superbly aged Grande Reserve multi-vintage, it is clear that they have sought to exceed all standards required by the region. Firstly, and most strikingly, the presentation is remarkable in heavy dark antique bottles that are unique to Gosset. Instead of aging this champagne for 3 years on lees before bottling, Gosset have aged this blend for four and half years. After bottling, this champagne is then aged a further 6 months in their cool cellars before they permit this champagne to be sold.
From the superbly smooth and well rounded flavours of the Grande Reserve to the elegance and perfume of the brilliant Grand Rose champagne to the incomparable Grand Millesime vintage it is clear that these champagnes have been conceived for the most demanding champagne enthusiast. Whilst the vintage champagnes are only released in the very best years, the cellaring capacity of Gosset champagnes in those select vintages is well documented. At Gosset malolactic fermentation is avoided to ensure sufficient acidity enabling a long evolution.