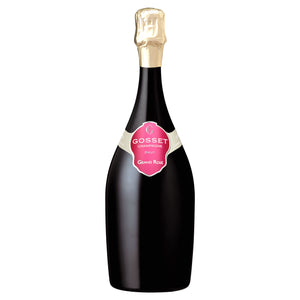 Variety: 50% Chardonnay, 50% Pinot Noir
Country, Region: France, Champagne
Appellation: Champagne
50% Chardonnay and 50% Pinot Noir (including the addition of 8% red wine) from the villages of Avize, Ambonnay, Chouilly, Villers-Marmery, Verzenay… aged a minimum of 3 years on lees. No malolactic to retain freshness and precision and bottled with 9 gms/ltr dosage.
'A confident chardonnay lead, low proportion of red wine and signature cut of malic acidity fulfil the brief for this delicate and graceful style. A pretty pale-salmon hue heralds a beautifully eloquent rosé that articulates the restrained mood of Gosset and the delicacy of a touch of pinot noir red wine. Pretty red cherry and strawberry fruit is fragranced with rose petal perfume, building to complex nuances of tamarillo with time in the glass. Tension and structure are defined equally by the salty chalk minerality of the great crus of the Côte des Blancs and Montagne de Reims, and the drive of excellent, ripe malic acidity. It glides very long and harmonious.' 95 points, Tyson Stelzer, The Champagne Guide 2020-2021.
Established since 1584, Gosset is one of the smallest Grande Marque Champagne producers. Whilst the champagnes that they produce have never been plentiful in quantity, they have distinguished themselves with the consistently superb quality throughout the entire range of champagnes produced. Remaining a family owned house, the Gosset family sold the business to the Cointreau family in 1994.
Starting with their flagship champagne, the superbly aged Grande Reserve multi-vintage, it is clear that they have sought to exceed all standards required by the region. Firstly, and most strikingly, the presentation is remarkable in heavy dark antique bottles that are unique to Gosset. Instead of aging this champagne for 3 years on lees before bottling, Gosset have aged this blend for four and half years. After bottling, this champagne is then aged a further 6 months in their cool cellars before they permit this champagne to be sold.
From the superbly smooth and well rounded flavours of the Grande Reserve to the elegance and perfume of the brilliant Grand Rose champagne to the incomparable Grand Millesime vintage it is clear that these champagnes have been conceived for the most demanding champagne enthusiast. Whilst the vintage champagnes are only released in the very best years, the cellaring capacity of Gosset champagnes in those select vintages is well documented. At Gosset malolactic fermentation is avoided to ensure sufficient acidity enabling a long evolution.