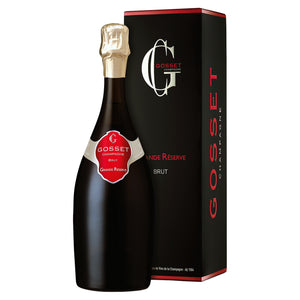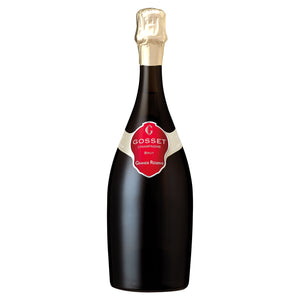 Variety: 45% Chardonnay, 45% Pinot Noir, 10% Pinot Meunier
Country, Region: France, Champagne
Appellation: Champagne


45% Chardonnay, 45% Pinot Noir, 10% Pinot Meunier; predominantly Aÿ, Bouzy, Ambonnay, Le Mesnil-sur-Oger, Villers-Marmery; aged a minimum of 3 years on lees; 8g/L dosage.
'The tension and energy of Grande Réserve are on full display in the great 2013 base vintage, filled with crunchy, exact red gala apple, lemon and even a hint of fennel. Power meets tension in a celebration of impressive fruit sources, showcasing their pedigree in depth and tension, blessed with all the toasted brioche and spice of long bottle age, illuminated by bright malic vitality and Gosset's signature of prominent, gently rolling, fine chalk mineral finesse. A very fine mousse wraps around a spine of magnificent, ripe yet confident malic acidity. Chalk minerality is heightened to profound levels, lingering very long with frothing salt mineral texture. Every detail lingers with generous length and accurate line. This is a Grande Réserve of greater precision, harmony and persistence than ever before – the finest I have seen this cuvée.' 95 points, Tyson Stelzer, The Champagne Guide 2020-2021.
Established since 1584, Gosset is one of the smallest Grande Marque Champagne producers. Whilst the champagnes that they produce have never been plentiful in quantity, they have distinguished themselves with the consistently superb quality throughout the entire range of champagnes produced. Remaining a family owned house, the Gosset family sold the business to the Cointreau family in 1994.
Starting with their flagship champagne, the superbly aged Grande Reserve multi-vintage, it is clear that they have sought to exceed all standards required by the region. Firstly, and most strikingly, the presentation is remarkable in heavy dark antique bottles that are unique to Gosset. Instead of aging this champagne for 3 years on lees before bottling, Gosset have aged this blend for four and half years. After bottling, this champagne is then aged a further 6 months in their cool cellars before they permit this champagne to be sold.
From the superbly smooth and well rounded flavours of the Grande Reserve to the elegance and perfume of the brilliant Grand Rose champagne to the incomparable Grand Millesime vintage it is clear that these champagnes have been conceived for the most demanding champagne enthusiast. Whilst the vintage champagnes are only released in the very best years, the cellaring capacity of Gosset champagnes in those select vintages is well documented. At Gosset malolactic fermentation is avoided to ensure sufficient acidity enabling a long evolution.