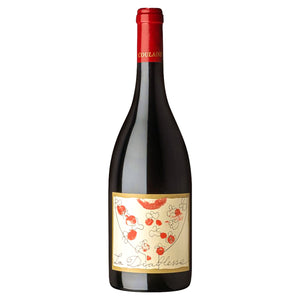 Certified Organic (Ecocert)
Variety: Cabernet Franc
Country, Region: France, Loire
Appellation: Chinon

Named after a distant relative with a fiery nature named 'La Diablesse' (the she-devil). Made from a tiny 0.8ha plot of 80+ year-old vines in the famed Les Picasses vineyard. This small parcel has a north facing exposition giving a finer fresher aspect to the terrific old vine intensity with the finished wine at just 11.9% alc/vol. Vinified in cement tank with indigenous yeast and then aged in mostly older 400 litre barrels (20% new) for 11 months before bottling unfined and unfiltered. This is beautifully pure and finely boned with real persistence and depth and very fine structure with gentle tannins and great expression of classic Chinon character. Intense yet very refined. A totally brilliant Chinon that can be enjoyed now or cellared with confidence.
Château de Coulaine is a family-owned estate rich in viticultural tradition which has been operating continuously since 1300!  In the 19th century the estate came to be one of the most notable in Chinon before phylloxera reduced the holdings to just over 1 hectare of Clos de Turpenay. Since 1988, Etienne de Bonnaventure took over the farming of that 1 hectare assuming all viticulture and winemaking responsibilities and has grown the estate to its current 18 hectares, all situated on Chinon's plateaux. Planted mostly to Cabernet Franc (with a little Chenin blanc making both Chinon blanc and Touraine blanc) particular care is taken to re-plant using selection massale as they have done for generations.
The  vineyards are organically farmed since 1997, being the first in the appellation to be certified organic, all grapes are hand-harvested and vinification follows a non-interventionalist path.  Coulaine's low yields result in deeply concentrated, savoury and succulent expressions of Cabernet Franc with ripe and polished tannins - a harmonious balance between the traditional and modern worlds. We adore Cabernet Franc and it is easy to see that Etienne has made every effort in the vineyard and the cellars to ensure that these are simply some of the purest and most deliciously approachable examples you will ever come across!