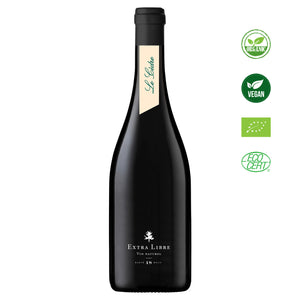 Certified Organic (2012)
Zero Added Sulphur
Variety: 100% Malbec
Country, Region: France, South West France
Appellation: Cahors
Certified organic fruit, 100% destemmed and fermented in concrete tanks for a total of 30 days, entirely without any sulphur additions. Matured in large oak casks for 18 months, again without sulphur. Bottled unfined and unfiltered, this wine is vegan-friendly.

'On the nose, fresh bread, with delicate marmalade of raspberries, cassis and strawberries, still refined by some floral scent. Spicy aromas of black pepper, cardamom and anise complete the picture. The palate is dense, young tannins in the foreground, but surrounded by fresh, soft juiciness. Still a bit closed, the wine already offers a clear sketch of its complexity.' In Vino Veritas Belgium, January 2018.
'When we first started working with lees a decade or more ago we had typically 50mm or more of lees and we would get quite a bit of reduction. Today with healthier fruit from organics, we start with less than 30mm of lees, but after 18-24 months we have only 1mm of lees remaining and no reduction at all. Amazingly, the lees have been assimilated back into the wine.' Pascal Verhaeghe, November 2017.
Château du Cèdre is widely regarded as the leading estate in Cahors. Brothers Pascal and Jean-Marc Verhaeghe, both qualified oenologists, can trace its history back to their grandfather Léon who left his native Flanders to settle in south-west France in the early 1900s. In due course Léon's son Charles and his wife Marie-Thérèse started a mixed farm in 1958 and began planting one hectare of vines in three different plots every year.

Today, Château du Cèdre comprises 27ha of vineyards planted at 4000-5500 vines per hectare on some of the most prized terroirs in Cahors, most notably the famous troisième terrasses. In keeping with the long history of Cahors, 90% of the vineyard is planted to Malbec (known locally as both Cot and Auxerrois), with 5% Merlot (now known to be a half-sibling of Malbec) and 5% Tannat. There is also 1ha of Viognier and a little of the Bordeaux whites, Sémillon, Muscadelle and Sauvignon Blanc.

After a disastrous hail storm in 1995, the brothers decided to re-evaluate their mode of operation in the vineyard, with a goal of bringing to an end the long term use of synthetic chemicals that had plagued the entire world of wine for 50 years (and had directly contributed to the untimely death of the brothers' father Charles). By 2002 they had eliminated all chemicals from the estate and by 2012 Château du Cèdre was certified organic.
Following on from the conversion to organic viticulture, it was only natural that Pascal and Jean-Marc would continue on a path towards reducing any additives in the wines. All the wines are now fermented with indigenous yeasts and sulphur additions are kept to an absolute minimum. Indeed even the 'regular' Château du Cèdre Cahors today contains as little as 3-5ppm free SO2 and only 30ppm total.

In 2014 they took this one step further, with the creation of the Extra Libre range: Vins Naturels with no added SO2 at all. There are three wines in the range, each a direct parallel to a 'regular' estate wine, respectively the Château du Cèdre Cahors, Le Cèdre and GC.

Drawing on their shared research into lees contact with Luc de Conti in Bergerac, the brothers make each wine from the same parcels of fruit as the regular wines, simply without sulphur and then mature them on lees in large oak casks for 12 months, 18 months and 24 months respectively. The results are a triumph of organic viticulture, pristine fruit and intelligent winemaking.