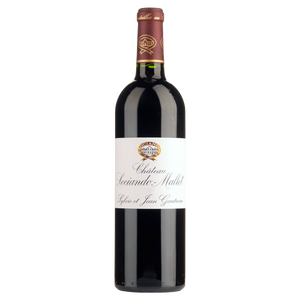 Variety:
Cabernet Sauvignon, Merlot, Cabernet Franc
Country, Region:
France,
Bordeaux
'The 2017 Sociando-Mallet has turned out well. Pliant and supple on the palate, the 2017 has quite a bit of aromatic complexity as well. I would prefer to drink it on the young side given its mid-weight structure. The 2017 is not quite as overt as it was en primeur, but it is impeccably balanced and very nicely done. Cool savory accents round out the finish. Drink 2022-2032.' 91 points, Antonio Galloni, Vinous, December 2019.

Sociando-Mallet is situated on one of the finest gravelly terroirs in the Médoc, since the 17th century. Located in the commune of Saint-Seurin-de-Cadourne, north of Pauillac, the vineyard overlooks the Gironde estuary on a bend in the river.
Sociando-Mallet's terroir consists of Günz gravel over a deep layer of clay-limestone soil. This terroir perfectly regulates water supply and enables Cabernet Sauvignon to ripen extremely well and Merlot to acquire depth and complexity. This terroir is Sociando's soul. It provides the wine with complex structure, freshness, and elegance.
Primarily located east of the village of Saint-Seurin, the property stretches over a total of 120 hectares, of which 83 are under vine. The vines grow on the superb Baleyron gravelly hillock around the house and winery buildings. Sun exposure is optimum and breezes off the estuary keep the vines well aired and healthy. The huge mass of water in the estuary and nearby ocean accounts for a temperate microclimate without wild swings in temperature.
Grape varieties consist of 42% Cabernet Sauvignon, 54% Merlot, and 4% Cabernet Franc. The vines are an average 35 years old.
The average vine density is 8,333 vines per hectare. This corresponds to 1 metre between vine rows and a distance of 1.2 metres between plants within a row. This high density increases the surface of the leaf canopy and creates a competition between vines, conducive to the production of grapes with a high content of tannin, sugar, colour and aromas.