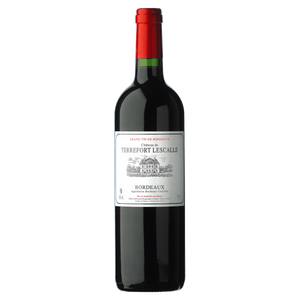 Variety: 80 % Cabernet Sauvignon, 20 % Merlot

Country, Region:
France,
Bordeaux
Appellation: Bordeaux

80 % Cabernet Sauvignon, 20 % Merlot, largely from the younger vines and heavier clay plots at Château Lescalle (terre fort = strong earth), to give a more richly fruited wine for earlier consumption. The fruit is destemmed and fermented in a mix of stainless steel and concrete tanks. Extraction is via pump-overs once or twice a day during ferment (typically 3 to 4 weeks), followed by 12 months maturation in tank.

Château Lescalle was built in 1875 by Emmanuel Tessandier, who later became the Mayor of Macau from 1876 to 1880. The vineyard is planted on 'palus', the alluvial sandy clay found next to the river. It is only 200 metres from the Haut-Medoc appellation and just 3 minutes from Margaux.