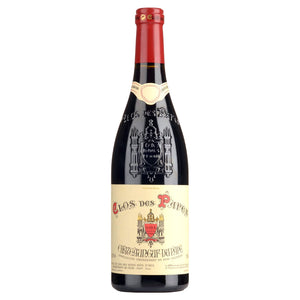 Variety:
 Grenache,
Mourvèdre, Syrah, Cinsaut, Counoise, Muscardin and Vaccarese
Country Region: France, Southern Rhône Valley
Appellation: Châteauneuf-du-Pape

50 % Grenache, 35 % Mourvedre, 10% Syrah, and 5% Cinsaut, Counoise, Muscardin and Vaccarese, aged in large foudres.
'Proprietor Paul-Vincent Avril expects to bottle 100,000 bottles of something approximating this "final blend," tasted out of foudre. A blend of 55% Grenache, 35% Mourvèdre and 10% Syrah and other permitted varieties, the 2020 Chateauneuf du Pape looked exceptional on this day, offering up scents of framboise and kirsch alongside dried flowers and Asian spices. Full-bodied yet weightless, silky and long, this is special stuff, complex and balanced.' (96-98) points, Joe Czerwinski, The Wine Advocate, May 2022. points,

'Beguiling, with a plume of black tea and incense leading off, followed by black cherry reduction, cassis, melted black licorice, warm earth, singed tobacco and garrigue accents. Offers breadth and depth with a seamless feel, capped by a subtle mineral edge that lingers lengthily amid the beautiful fruit. Grenache, Syrah and Mourvèdre. Best from 2024 through 2040. 8,000 cases made.' 97 points, James Molesworth, Wine Spectator, January 2023.
Clos des Papes is one of the great established names of Châteauneuf-du-Pape with the family living in the village for centuries and also being among the people who created the appellation for the village, the first in France to do so. Currently run by Paul-Vincent Avril who is also the winemaker, he attended wine school in Burgundy in the 1980's, and after also working abroad including a stint at Mount Mary with Dr John Middleton, he returned home to work with his father in 1988. Since then he has succeeded to make what many regard as the best single example of the appellation producing just one red wine and one white wine. No special cuvees are produced and no grapes bought and no grapes or must are sold, simply 2 outstanding wines from both colours both containing all the varieties that the appellation approves. Clos des Papes is not only regarded as the benchmark producer of the appellation but is also frequently recognised as being one of the leading estates of all France.
The property has today 40 ha, of which 3 ha is planted to white varieties with 30 different parcels spread around the village. A parcel is nearby the pope's castle and has been surrounded by walls (clos). From here came the name of the domain. For the red Chateauneuf, Clos des Papes has planted about 65% Grenache, 20% of Mourvedre, 10% Syrah with about 5% being a mix of all the other permitted varieties. Clos des Papes is one of the few estates to use all permitted varieties for both red and white Chateauneuf. They are well-known for producing one of the most authentic and long-lived examples of the appellation having started estate bottling in 1896. The white Chateauneuf-du-Pape also ages extremely well providing great drinking pleasure for 20 years or more. It is made from almost equal percentages of all the six permitted white varieties which are co-fermented in two separate ferments, one for early ripening varieties and the second for the late ripening varieties. Yields are kept very low, frequently about a half or a third of what the appellation permits. These wines are very limited and always in high demand.