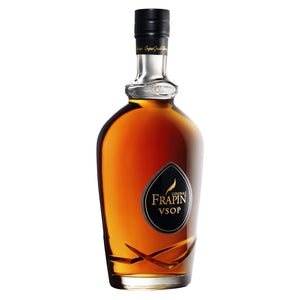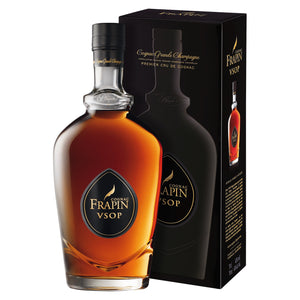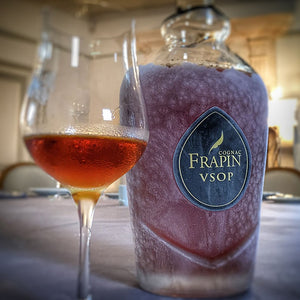 Its orange colour bears witness to its time ageing in Limousin oak barrels. The bouquet is complex, fruity with orange and floral with dried flowers. Discreet notes of vanilla are revealed. This Frapin VSOP offers a wonderful aromatic intensity. Frapin VSOP is very harmonious. It is balanced with persistent flavours, including fruity orange notes. The finish is spicy with notes of cinnamon or pepper.

'The quintessential expression of the Frapin style. A cognac that can combine with anything at any time, as an aperitif, during a meal or after dinner.' Patrice Piveteau, Cellar Master.

'Burnt sienna color; unblemished clarity. Up front, I pick up traces of baked fruits, especially peach and pear, plus a touch of baking spice, in particular, mace; more air contact stimulates deeper fragrances of vanilla bean, dried apricot, and old leather. Entry is juicy and ripe, toasty, and honeyed; midpalate accentuates the dried fruit that comes off as being a little more tropical (guava, especially) in nature than orchard-like. Concludes silky in texture, mildly honeyed, and elegant. A classy VSOP that beams with Grande Champagne elegance and depth.' 2019 Rating: ⋆⋆⋆⋆/Highly Recommended, F. Paul Pacult, The New Kindred Spirits, August 2021.
Awards
Ultimate Spirits Challenge 2020 USA - 95/100 'Great Value'
Cognac Masters 2019 UK - Gold Medal
ISW 2019 Germany - Gold Medal
International Spirits Challenge 2018 UK - Gold Medal
Cognac Masters 2017 UK - Gold Medal
Cognac Masters 2016 UK - Master
World Cognac Awards 2016 UK - World's Best VSOP
'Few houses in Cognac have the hallowed history of Frapin, still owned by the original family, who can trace their winegrowing and distilling back to 1270 (the current CEO is the 21st generation). Consider: The family's coat of arms was bestowed by Louis XIV; the quill logo was designed in honor of famed author François Rabelais, whose mother was a Frapin; Gustave Eiffel constructed the building where the blending is carried out. On a tour, as we passed some cobwebbed old demijohns, I was casually told, 'Here is the harvest of 1870.' Jason Wilson, Vinous, September 2019.
Frapin is located in the centre of the Grande Champagne, Premier Cru du Cognac region in the sleepy little town of Segonzac, the finest designated region in Cognac. It is the only merchant located in the town and only sells Cognacs produced from grapes sourced from its own 240ha estate in the heart of the Grande Champagne region. The Frapin family have been wine growers since 1270, but until the 1980s the family's primary business was as a distiller and supplier of mature Cognacs to Remy Martin, Hennessy and Courvoisier.
In 1984 the Cointreau family (direct descendants of the Frapins) ascended to the management of the company with Beatrice Cointreau at the helm. Since then Cognac Frapin has been re-invigorated and re-positioned as a producer of the very finest Cognacs in its own right, marketed under its own name.
At Frapin all the fruit for the Cognacs is grown on the estate and is usually harvested 2-3 degrees riper than the regional norm to bring extra flavour to the base wine. Distillation always takes place with the lees from fermentation, adding texture and length as well as extra dimensions of flavour complexity. The young Cognacs are aged for a good 2 years or more in new Limousin oak (much more than is typical), before being transferred to older barrels for the long haul. And whilst the average stockholding in the Cognac region is just on 7 years, Frapin currently holds 16 years in stock, highlighting the extra complexity that age brings to its range of Cognacs.
The ageing of the Cognacs at Frapin is further distinguished, with maturation taking place in one of two distinctly different environments. Long ageing in the humid cellars underground makes for a rich and powerful style, whereas the drier attics emphasise fruit and bring a finer and more elegant finish to the Cognac.