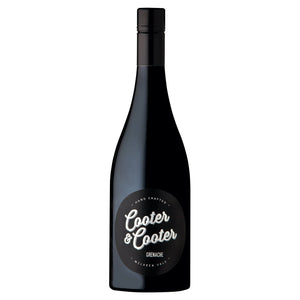 Variety: Grenache
Country, Region: South Australia, McLaren Vale


Dry grown Grenache grown in Whites Valley in McLaren Vale, hand-picked, de-stemmed and wild fermented in open fermenters for 11 days. Approximately 20% underwent whole bunch fermentation. Carefully selected seasoned French oak was used to mature and integrate for 10 months. Bottled unfiltered and unfined.
14 % Alc/Vol; 0.6 g/l RS; 3.59 pH.
'Dry grown on the proprietary Whites Valley vineyard. Hand picked, wild fermented with circa 20% bunches and matured in seasoned oak for 9 months. Of the zeitgeist. Blood plum, orange zest, kirsch and a reductive belt of violet. Acidity, soused in turmeric, tamarind, clove and white pepper, finds an easygoing confluence with spindly tannins. Imminently approachable.' 92 points, Ned Goodwin MW, Halliday Wine Companion, August 2021.
Cooter & Cooter is a family business and the logo reflects the connection between the generations of winemakers. The cursive script has been used by various Cooter businesses since 1847.
In 1992 Colin Cooter created Lengs & Cooter with Karel Lengs and in 2012 Colin's son James established Cooter & Cooter with his wife Kimberly. A winemaker herself, Kimberly began learning her craft under the tutelage of her father, veteran McLaren Vale winemaker Walter Clappis. Walter is best known for his much celebrated time running Ingoldby Wines and more recently, The Hedonist Wines.
In 2005 James and Kimberly spent a year working in California's Sonoma Valley then, invigorated by their experience, they returned to Australia to continue making wine at The Hedonist. Finally in 2012, now with over 20 vintages between them, they purchased their own vineyard at Whites Valley near Willunga in McLaren Vale. The vineyard, with views to the coast just a few kilometres away, features Grenache vines planted in the 1950s, along with Shiraz and Cabernet Sauvignon vines planted in 1996.