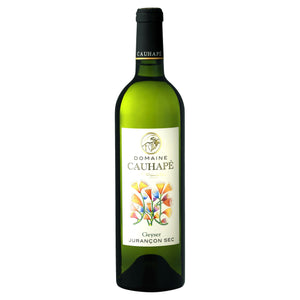 Varieties:
30% Gros Manseng, 30% Petit Manseng, 30% Camaralet, 5% Lauzet and 5% Courbu Blanc
Country, Region: France, South-West France
Appellation: Jurançon

30% Gros Manseng, 30% Petit Manseng, 30% Camaralet, 5% Lauzet and 5% Courbu Blanc, crushed and destemmed then macerated on skins for 12 hours before pressing. Cool-fermented in stainless steel and matured on lees for 5 months.

The nose displays beautiful complexity and freshness, evoking citrus and exotic fruit notes, along with hints of pepper and fennel from the old varieties, Camaralet and Lauzet. In the mouth, there is lovely volume and complexity with flavours of yellow-peach and exotic tropical fruits leading to a long, textural finish of excellent persistence and refreshing acidity.
The appellation Jurançon is well-loved by sommeliers and found in all the best restaurants of France and around the world, yet sadly it remains off the radar for many wine lovers. Not so nearly 500 years ago when the future King of France Henry IV, was baptised in Pau with the traditional garlic and a spoonful of Jurançon wine. That year was 1553 and just five years later in 1558 a small rural property was entered into the register of lands under the name Caussapé. And it was on this property in 1980, then his parents' farm, that Henri Ramonteau established Domaine Cauhapé.
Since those beginnings on just one hectare, Henri has built up the estate to today's area of 43ha and become the most renowned producer of Jurançon wines, both dry and sweet. Here, only half an hour west of Pau and 100km from Biarritz, Domaine Cauhapé enjoys a temperate Atlantic climate in the rain-shadow of the Pyrenées. With the warm, dry föhn wind blowing in from the south and ventilating the vineyard, botrytis is not a factor. The sweet wines are made from late-harvested fruit picked from October onwards, in some years all the way into January, resulting in wines of great complexity and purity.

The estate is planted substantially to the exotic native varieties, Gros Manseng and Petit Manseng, whilst Henri has also set about reviving three other old native varieties: Camaralet de Lasseube, Lauzet and Courbu Blanc. All vine work is done by hand and all the fruit is hand-harvested and hand sorted. The sweet wines are picked in successive tries. Vinification is done in a mix of stainless steel and barrel, depending on the cuvee, but it's Henri's famously meticulous nature that underwrites the legendary status of the wines.