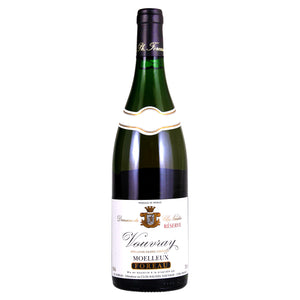 Variety: Chenin Blanc
Country, Region: France, Loire Valley
Appellation: Vouvray
The "Reserve" label of moelleux appears only occasionally in vintages that have the perfect conditions for making great sweet wines. This label is solely for botrytis affected fruit with this wine sporting 130g residual sugar. A big step up in intensity and weight and richness with flavours of confit apple and pear with little hints of caramelization with delicate hints of hazelnut all the while underpinned with a very fine vein of acidity and a hint of salinity on the very long finish.
'The wines of Philippe Foreau could perhaps be considered the ultimate expression of the Vouvray vineyard. He exhibits great care in tending his vines, has a reasoned approach to his work in the vineyard, and in the cellar there is minimal manipulation and the restrained use of older wood for fermentation ... When he allows a little sugar in the wine, in the demi-sec cuvee in particular, this immediately leads to an electrifying balance of all Vouvray should be, pure, off-dry, fresh and capable of evolving great complexity.' Chris Kissack, The Wine Doctor.
This great Vouvray estate was founded in 1923 (5 years before the Huet family) and is now run by Vincent Foreau who took over from his father Philippe in 2016. Their cellar master Hubert Vacher has been working with the Foreau family since the 1970s and this small and beautiful domaine has remained at just 11.5 hectares in size (less than 1/3 the size of Huet who are their neighbours across the little street). Clos Naudin does not relate to a single "clos"owned by the estate but rather the family have numerous holdings that have remained the same for decades. Three quarters of the family holdings are located above the village on the famed Premier Cote, centred on the Les Perruches vineyard, adjacent to Le Mont.
Work in the vineyards is all done with minimal inputs and vines replaced using massale selection. Hand harvesting and natural-yeast fermentation in mostly aged 300 litre barrels and without malolactic conversion, results in wines of crystalline purity. Younger vines are mostly used for their excellent sparkling Vouvrays.