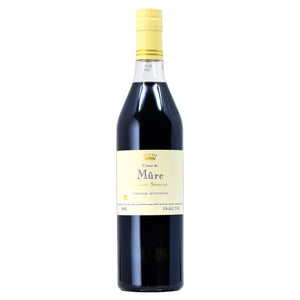 Variety: Blackberry
Country, Region: France, Gevrey Chambertin
Creme de Mure 15% alc.

Domaine de Sathenay is located near Gevrey-Chambertin in Burgundy and covers several hundred hectares. The estate has been owned by the family of Jean-Pierre Cointreau for more than 150 years.
The world's finest variety of blackcurrant, Noir de Bourgogne, flourishes on this estate, thanks to exceptional soils, favourable climate and the good exposure to the sun. With production from fruit grown on the estate, Sathenay blackcurrant liqueur is a true Cassis de Domaine of exceptional concentration similar to super cassis.
All the liqueurs from Domaine de Sathenay are combined from the highest quality ingredients, without exposure to air or light. It is this marriage of tradition and modern technology which creates such exceptionally rich taste and colour across the range. The recipes require large quantities of fruit during this process to formulate each unique flavour.
The Sathenay range of liqueurs is synonymous with striking finesse and richness, the perfect balance between sugar and alcohol.