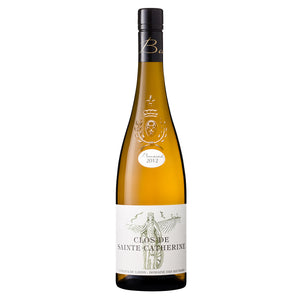 Variety: Chenin Blanc
Country, Region: France, Loire Valley
Appellation: Coteaux du Layon
From a single north-facing vineyard located just above the village of Rochefort-sur-Loire, providing a stark contrast to the richer fuller wines from the south-facing Quarts de Chaume. As a result the acidity here can be more marked and give exceptional ageing capacity and greater finesse and depth so that in some years it challenges the very best of Quarts de Chaume.

'Things become considerably more interesting with the Clos de Sainte Catherine, a much richer, deeper and more cerebral style. It is sourced from a single vineyard with sandy soils just outside Rochefort-sur-Loire.'

'Plump, ripe and full, featuring a slightly exotic edge to the guava, mango and creamed peach flavors, before a racier side of green plum, honeysuckle and plantain moves in behind. Still youthfully raw, with the fruit bouncing rather than gliding for now. The finish is long, revealing an echo of green almond that bodes well for cellaring.' 94 pts Wine Spectator - Feb 2013.


'Florent Baumard is one of the world's best winemakers, and you probably don't know him. That's because he produces Chenin Blanc from the Loire Valley, an all-too-often overlooked region. Baumard produces a range of dry and sweet wines, topped by his Quarts de Chaume. And perhaps the best part of Baumard's new wines is that they are now all under screw cap. Bravo to Florent Baumard for making this decision based on quality, not marketing.' James Molesworth, Wine Spectator, March 2007.