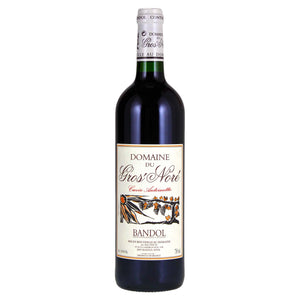 Variety:
 Mourvedre, Grenache, Cinsault, Carignan
Country, Region:
France, Provence
Appellation: Bandol


Named after Alain Pascal's mother and produced from a single parcel of old Mourvèdre vines (~ 60 years old) at the highest point of the appellation with a cooler north facing exposition. The fruit is harvested by hand, then wild-yeast fermented in concrete vats, followed by 18 months maturation in large oak casks (25 to 60 hL). Bottled unfined and unfiltered.


Domaine du Gros 'Nore
Owner Alain Pascal has 17 ha of vines in the prime sector of Cadiere d'Azur. The first official vintage released was 1997. Prior to this, Alain's father, Honore (his name is shortened to 'Nore to give the name of the Domaine as Gros Noré = Fat Honore) worked the vineyards but never made his own wine. Instead he sold the grapes to another leading Bandol producer at that time, Chateau de Pibarnon. These beautifully sited vineyards have an average age of 30 years with some located in the highest coolest part of Bandol.

Bandol is regarded as the First Growth of Provence producing the most serious, and well known, wines of Provence. The Mourvèdre grape variety is the basis of great Bandol with appellation laws requiring a minimum of 50% for the red wines (though many use up to 100% for some cuvees). As well as Mourvèdre (80%), the Gros' Noré red also has a dash of Grenache (15%), and old vine Cinsault (5%). The wine is aged for 18 months in old 60 hl wooden barrels (foudres). There are no new barriques used.
The domaine has been working organically for many years with no weed-killers or pesticides and will have Ecocert certification in 2020. Alain places a heavy emphasis on ploughing and working the soil in the springtime. All grapes are hand harvested and sorted and bought quickly to the winery where the grapes are moved onto a vibrating table to remove unwanted material before being de-stemmed. The must of the rose and white are first cooled with the rose spending 24 hours on skins before fermentation.