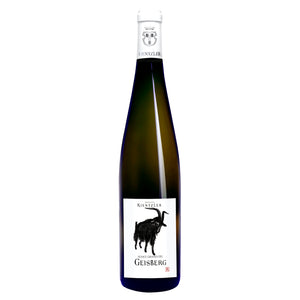 Variety: Riesling
Country, Region: France, Alsace
Appellation: Alsace Grand Cru
From the third smallest Grand Cru in Alsace, Kientzler are one of just four producers to own a part of what is widely regarded as one of Alsace's finest vineyards. Rising steeply above the northern edge of the town the vineyard is mostly covered in narrow terraces held in place with rock walls and seemingly endless stairs leading ever higher until one reaches Osterberg GC.

The vines in Geisberg have an average of 60 years age giving this great depth and dimension with an intense bouquet with a rich and varied aromatic scale, marked by an amazing mineral depth and overall refinement. Texture both ample and precise, with a unique dimension on tasting. The powerful and profound mineral intensity is coupled with a mature and precise acidity. Palate with great tension, intense brightness and purity. The overall framework conveys length, elegance and refinement. One of the finest and driest vintages of this outstanding Grand Cru. 14% Alc; 1.2 g/l RS; 7.37 g/l TA.
95 points, Le Guide des Meilleurs Vins de France, La Revue du Vin de France, 2023.

"Geisberg has been well documented since 1308 as Riesling country par excellence. The wines are fragrant and have great finesse, yet they are also powerful and long lived. These are true Grand crus, not widely available and highly sought after. Andre Kientzler is the greatest exponent of Geisberg Riesling." Tom Stevenson, The Wines of Alsace
'One of the most talented Winemakers in Alsace ... he has Riesling and Gewürztraminer growing in prime sites and it is what he manages to do with these that ranks his wines among the very best in Alsace. Although his generic Riesling has great class and finesse, his Grand Cru Geisberg and Grand Cru Osterberg are very much finer. The Geisberg is the riper and more opulent, with a wisp of smokiness to the fruit, the Osterberg is more classic and flinty, requiring longer in bottle.' The Wines of Alsace, Tom Stevenson.
The Kientzler family has been growing vines for more than 5 generations in Ribeauville and the surrounding area. As early as 1866, Dominique Alphonse Kientzler had inherited vines from his father and grandfather and in 1895 was involved in the creation of France's first winemaking cooperative in Ribeauville, in addition to running the local grocery shop. His son Alphonse carried on the grocery business while also tending to the vines; he eventually became the Mayor of Ribeauville either side of World War II.
It was Alphonse's son Francois though, who was the first to fully concentrate on wine production, taking himself off to Switzerland to study viticulture. By the 1970s, he was joined by his son Andre in the wine business and the pair undertook a massive replanting program to replace much of the old Chasselas with the noble Riesling, Pinot Gris and Gewurztraminer varieties.
Today, the Kientzlers farm almost 14ha of vines in Ribeauville, Bergheim, Hunawihr and Riquewihr, including significant parcels in the Grand Crus of Geisberg, Osterberg and Kirchberg. And in turn Andre handed over the reins to his sons in 2009; Thierry looks after the winemaking and Eric the commercial side of the business.