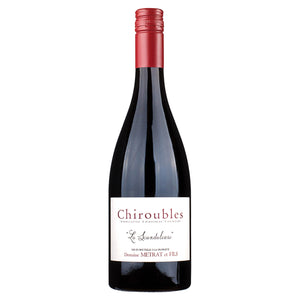 Variety: Gamay
Country Region: France, Burgundy, Beaujolais
Appellation: Chiroubles
From a single full south-facing plot of nearly 80 yo vines which has the historical lieu-dit name of Cote Rotie. After legal threats from the Rhone Valley surrounding the use of the historical name of this beautiful vineyard, Bernard was forced to change the name of this wine, hence the new name La Scandaleuse. Vinified in large cement and then about 15% is aged in smaller used oak barrel. Deeply perfumed with intensity and freshness.


The Metrat family home and winery are to be found in the midst of the very highly regarded sector of Fleurie called "La Roilette". La Roilette lies towards the bottom of the slope close to the border of Moulin a Vent and here the soil has a base of clay underneath the decomposed pink granite that is so typical of this area. This makes for wines that have a little more depth and structure than most other Fleuries.
The Fleuries from the Metrat family fall into this latter category and these wines are now showing very well with the old vines cuvee having a little more dimension and finesse than the traditional cuvee. The winemaking by the Metrat family is traditional with fermentation in cement and no artificial yeasts used, crop levels are kept low and hand harvested. The wines show great purity of fruit with ample perfume and silky texture. The extraction of tannins is gentle and although these wines are generally drunk young these wines from the Metrat family can confidently be enjoyed over 5 or 10 years if you can manage to keep your hands off them!
'If only all Chiroubles could be as well crafted as Bernard Metrat's!' Neal Martin.