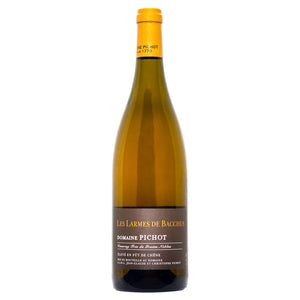 Variety: Chenin Blanc
Country, Region: France, Loire Valley
Appellation: Vouvray
Produced only 6 times and only in the very best years for botrytis. Very fresh with remarkable acidity and residual sugar of 160 g/l. This stunning sweet wine is harvested grape by grape from a tiny one hectare parcel of vines that is full south facing just above the village on the valley opposite Clos du Bourg. Average yield for these 6 vintages of around 1 hl/ha (average of 15 hl/ha at Chateau d'Yquem). This is a remarkable labour of love of grapes selected mostly by Caroline Pichot.
'Less well known than Huet or Clos Naudin, the Pichots merit as much praise.' Le Guide des Meilleurs Vins de France, La Revue de Vins de France.
The Pichot family is one of the oldest in Vouvray with origins as restaurateurs going back to 1739 later followed by the purchase of the superb Coteau de la Biche vineyards in 1770 establishing them as growers to help supply the restaurant. Their vineyard holdings are mostly located all at the top of the village with the largest holding which makes up their classic Coteau de la Biche in the prime Vallee de Nouys which is perfectly sited for making drier styles of wine and faces south-east. The Pichot family also own most of the "premiere coteau" site of Le Marigny located just above the village opposite Clos du Bourg. These are quite simply regarded as being amongst the very best vineyard sites of the appellation.
All vineyards are farmed organically with grasses grown between the rows to reduce the uptake of moisture and vigour to the vines. The average age of vines is high with the Clos Cartaud vines around 75 years old. While Vouvray as a whole produces about 40% sparkling wines and 60% still wines at Domaine Pichot more than 85% are still wines made into sec, demi-sec or moelleux and less than 15% being made as sparkling wines. The style of the wines here is among the driest of the appellation for each style with sec typically being from 3-7 gms/litre residual and demi-sec from 13-17 gms/litre with moelleux most often around 60 gms/litre. Harvesting is mostly done by hand and yields are kept low at an average 25 hl/ha.
One of the first domaines of Vouvray to export to the U.S.A. Domaine Pichot are perhaps better known in export markets than at home in France as Christophe spends most of his time 'hands-on' in the vineyards and winery and being such a small producer he is very focused for each step of production. Domaine Pichot are very well known for the brilliant quality of the stunning sweet wines, although their dry and demi-sec wines are also superb. Right across the range these are remarkable wines that will age effortlessly for decades (as vintages back to 1950's very generously shared from the family cellar have demonstrated) and will also provide great satisfaction from a young age.