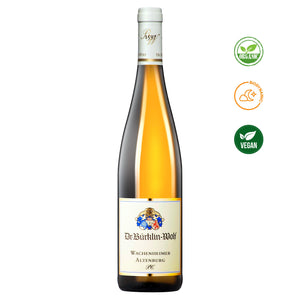 Certified Organic, Biodynamic & Vegan
Variety: Riesling
Country, Region: Germany, Pfalz

'Very ripe lemon character and an elegant harmony of restrained power, ripe acidity and a subtle chalky minerality that build at the long polished finish. From bio-dynamically grown grapes. Vegan. Drink or hold..' 94 points, Stuart Pigott, James Suckling, August 2022.
'I can hardly imagine better wines were produced in the Pfalz than here last year. Most likely, the 2019 Kirchenstück G.C. and the Pechstein G.C., both from Forst, and even the Langenmorgen G.C. from Deidesheim, are among the finest dry Rieslings I have ever tasted from Germany. The wines are deep, rich, powerful and dramatic yet so fine and elegant and reveal vibrating energy that guarantees a long run.' Stephan Reinhardt, Vinous Media, August 2020.
The Bürklin-Wolf estate is based in the Mittelhaardt, the quality core of Germany's world-renowned Pfalz, around the towns of Wachenheim, Forst, Deidesheim and Ruppertsberg. Here with 85ha under vine they have the largest family owned wine estate in all of Germany originating in 1597, with a treasure-trove of superb vineyards, at the centre of which lies the great Kirchenstück. Here in the tiny village of Forst, Kirchenstück and its neighbours Jesuitengarten, Ungeheuer and Pechstein, have for centuries been recognised as producing not only some of the world's greatest dry Rieslings, but simply some of the world's greatest wines. In the nineteenth century, prices for these wines exceeded the prices paid for 1st Growth Bordeaux and Grand Cru Burgundy.
In 1990 Bürklin-Wolf began reviewing their vineyard holdings in the context of the 1828 Royal Bavarian Land Tax Classification and after years of exhaustive research they discovered that today's top vineyards are exactly the same as those identified back in 1828. Today they have adopted a Burgundian model with four tiers: Estate, Village, PC (code for Premier Cru) and GC (for Grand Cru). Thus they are focussed on the production of dry, terroir-driven wines and no longer produce the Kabinett and Spätlese styles defined by the (still current) 1971 German Wine Law.