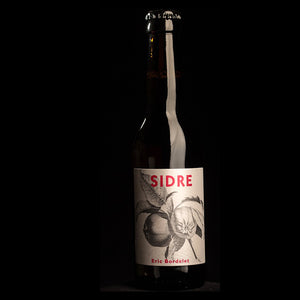 Certified Organic
Varieties: blend of 30 or more varieties of apple
Country, Region: France, Normandy, Loire Valley
Available only in cases of 12 bottles of 330ml
In France Bordelet offers a Demi Sec bottling of apple, but for our market the wine is called Brut Tendre, having 25-30 grams of sugar per litre.  The acidity of the apples is relatively high and so is balanced by a little residual sugar so that the finish tastes dry to most palates.

Eric Bordelet approaches Cider-making with the same intensity as a passionate oenologist brings to winemaking. Bordelet worked as sommelier in the leading 3 star Parisian restaurant, 'Arpege' where he became deeply familiar with the top winemakers and wineries of France. In 1992 he took over the tiny patch of family farmed orchards in Charchigné, in the heart of Normandy's premium Cider producing area. Since then he has set about rescuing the ancient 'heirloom' varieties of pears and apples that produce tiny quantities and amazing flavour.
He has now planted many of these old heirloom varieties on his 23 ha property and has undertaken the complete rebuilding of the Chateau de Hautville that once stood on the property before it burn down nearly 100 years ago. The Chateau is not to be rebuilt for his family to live in, rather the cellars at the base provide the perfect environment for him to patiently age his Calvados and on top of that are larger facilities for the production of his ciders and finally at the top a viewing platform to see his orchards and surrounding landscape of southern Normandy.
Working organically, the fruit is dry-farmed, as Bordelet prefers to work with tiny very flavoursome apples and pears. 'The fruit we work with looks quite different from what you'll find in the grocery store. I know what each apple variety brings to the cider.' says Eric, explaining that some Ciders can have about 20 different varieties used. And he adds, 'I use about 40% of sweet apples, 40% sour apples and 20% of acidic apples to get the right balance.'
His ciders are deliberately made in a very gently sparkling petillant style and do not have the same level of effervescence as many other ciders. This is a conscious decision on Bordelet's part, 'I want it this way because it shows off the fruit character better.'