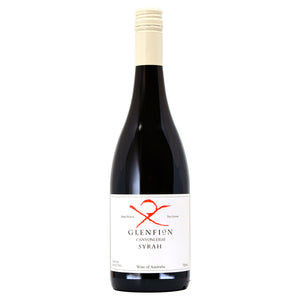 Variety: Syrah (Shiraz)
Country, Region: Australia, NSW, Canyonleigh

No Further Discounts On This Wine.


Deep, rich and very bright in colour, this wine jumps from the glass with a floral white pepper lift and a hint of bacon fat. Layered with spice, black cherry and grilled dried herbs the palate is fine and elegant. Subtle and fine grape tannins give structure and length. The wine is tightly framed by the bracing riverstone acidity that is the hallmark of this vineyards terroir.
GlenFion is a family owned and operated vineyard at Canyonleigh on the eastern fringe of the Southern Tablelands. A partnership between Laird, Jenny and Andy Stewart the philosophy behind the business is to create wines of distinctive regional character, unique to the vineyard site. The Vineyard is built on an old glacier that has provided us with the ideal soil in which to grow Shiraz. The soil is a sandy loam interspersed with ancient riverstone with a depth ranging from 400mm to 600mm. Below this is active gravel clay.
The vineyard is completely dry grown and all vines are hand pruned, picked and summer trimmed to provide an ideal canopy. Leaf plucking and green pruning is carried out throughout the year, depending on the vintage, to ensure an open bunch zone. Some bunch thinning is carried out to ensure that crop levels are maintained at optimum levels of between 3-4t/ha.
Fruit is delivered to the winery  at the end of each days picking where it is processed immediately. Gently crushed to retain many whole berries and fully destemmed, the fruit goes through extended maceration and fermentation. Pigeage is carried out by hand, avoiding the use of pumps wherever possible. Half of the wine is aged in two year old French oak using a mix of coopers to add further dimension to the wine. The other half is stored in stainless steel to retain fresh fruit characters. The wine is then matured in bottle for a minimum of 24 months prior to release to ensure integration and balance.