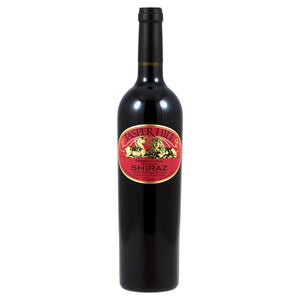 Variety: Syrah (Shiraz)
Country, Region: Australia, Heathcote

Georgia's Paddock: 12 hectares of Shiraz yielding about three tonnes per hectare (20hl/ha). Three hectares of Riesling giving about three tonnes per hectare (20hl/ha). Planted in 1975/76 with further small plantings done after the vineyard was ravaged by bushfire in 1987. One hectare each of Semillon planted in 1992 (since grafted over), and Nebbiolo planted in 1993.
'Georgia's Paddock grapes once again supplemented with grapes grown by friends within the Heathcote region, this years wine follows on with a fresh indulgent approach to a wine worth savouring. Vibrant magenta colour with a rich dark berry nose. Fabulous hit of fresh red fruits, a spicy luscious mouth feel and great more-ish length. Cellar or drink now, your choice. 1-by-1 branded cork-taint-free cork sealed, 15.0% alcohol' Ron Laughton and Emily McNally.
'What a deep and complex briar and spicy nose this exceptional Heathcote shiraz has! Cloves and crushed slate with gun metal. Very complex fine grained tannins and great mineral freshness drive this over the palate and off into the distance. Excellent ageing potential. Drink or hold.'  97 points, Jamessuckling.com, October 2022
'Whether it's down to this very special rift of dirt or not, these wines are simply incredible.' Robert Parker Jr, The Wine Advocate.
'the best nebbiolo I've found outside Piedmont.' David Williams, The Guardian, April 2019.
Established in 1975 by Ron and Elva Laughton, Jasper Hill producers some of Australia's most compelling and sought after wines. Located at Heathcote in Central Victoria on ancient Cambrian soils-deep, red coloured, well drained gravely loams on undulating hillsides. These support low-vigour vine growth without the need for supplementary irrigation.

The wines are produced entirely on the estate using organic and biodynamic principles. Inter row mulching and self made organic compost is used to improve soil organic matter. This allows greater bio-diversity in micro flora and fauna, supporting large earthworm populations beneficial for natural soil fertility. Following these principles no synthetic chemicals have ever been applied to the soils or vines. Vines are grown on un-grafted root-stock and non irrigated, expressing flavours and characteristics natural to their variety and terroir. Grown at elevations of 1000 feet the vines benefit from warm days but cool nights, imperative for natural acid retention and structure. None of the wines from Jasper Hill vineyards has even been acid adjusted at any stage. These are natural wines of striking purity. With 35 vintages to their credit, these wines have a long established record for ageing gracefully with careful cellaring.