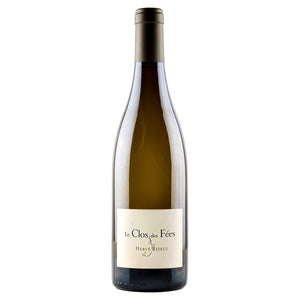 Country Region: France, Roussillon
Appellation: Cotes Catalanes IGP


Made from 100% Semillon planted in limestone with cuttings coming from a famous Bordeaux chateau. Vinified and aged in 50% new oak. A very rich and powerful Semillon with intense preserved lemon notes, hints of toast and cashew nut leading to a palate of great volume and concentration. Finishes with excellent length and persistence. This is modelled on a top Bordeaux blanc and will benefit from being decanted a good 30 to 60 minutes before serving. Last tasted in 2019 and still has years ahead of it.

'Former sommelier-turned-journalist and now winemaker Hervé Bizeul has emerged as one of the Roussillon's shining stars. Unencumbered by tradition and inspired by the great wines he's tasted, he's set out to show that Roussillon can make wines that rival the best in the world ... consumers who are fortunate to have the 2007, or perhaps the 2005 La Petite Sibérie, should feel good about dipping into their stashes now ... In short, this is one of the most exciting domaines in a region that is flexing its quality muscles.' Joe Czerwinski, The Wine Advocate, May 2019.
Clos des Fées is relatively new in the wine world, beginning in 1998, when Herve and Claudine settled in Vingrau, on the high cool slopes of the northern edge of Roussillon. Herve recognised the quality potential of the cool high sites of these magnificent limestone based vineyards sitting well above the valley floors where most producers work in easier and more fertile soils. The vineyards of Vingrau and the higher slopes could not be more complex, different, or difficult, to work than those on the lower flat land. Buying up old and often abandoned vineyards from these high slopes. Herve has gradually amassed dozens of tiny plots, of which many are magnificent mature vineyards spread throughout these cooler slopes. With a large team of vineyard workers, they work approximately only 2 hectares of vines each throughout the year, producing tiny yields of perfectly ripe fruit which also retain excellent freshness and acidity. Vinifying gently and using minimal SO2 during the winemaking process the resulting wines show remarkable finesse and freshness behind perfectly ripe fruit that shows its origins from these fresh limestone based soils. Whilst focussing on the varieties that have always been the strength of this historic region, Herve has also managed to produce great results with white wine as well as introducing carefully selected root stock from Merlot and Cabernet franc, as well as other varieties. The freshness and polish he achieves in these immacualte wines is testament not only to his wine-making skills but also his knowledge of the great wines of the world having previously worked as a sommelier in Paris and running his own restaurant.
"Herve Bizeul practices a ruthlessly controlled viticultural regimen focused on some 130 parcels of selection massale vines in the dramatically rocky, yet clay-permeated limestone environment north of Vingrau, and his pursuit of concentration and purity continues with meticulous selectivity of plots and lots (much of the crop is sold off each year) as well as of clusters and berries. Add to this a fruit-pampering vinification, and the result is wines that have turned heads every bit as much as does the local scenery and brought Bizeul well-deserved recognition as a beacon of Roussillon quality. He is so convinced of the fit between traditional goblet training and the local climate, that he is even head-pruning his young vines of Cabernet Franc, whose profusely floral, chocolaty-rich, yet refined inaugural 2008 vintage will, rest assured, be unlike any other wine from this grape that you have ever tasted. Bizeul is another of those denizens of Roussillon and the Languedoc to have imagined and now perfected a uniquely delicious style of white wine."  Robert Parkers The Wine Advocate