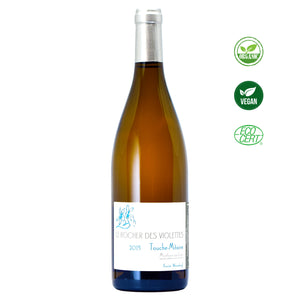 Certified Organic (Ecocert)
Variety: Chenin Blanc
Country, Region: France, Loire Valley
Appellation: Montlouis

No Further Discounts On This Wine.
'From a 3.5-hectare parcel of Chenin Blanc vines. This was vinified in 220-litre barrels, all old oak. It starts with a salty fresh nose, with some lightly dried citrus fruits. The palate is fresh, but with evident fruit confidence, especially mirabelle plum, laced with a lightly sherbetty minerality. The overall feel is cool, the delicately salted fruits cut with a fine acid backbone. A nicely defined and challenging substance, certainly bitter, on the finish. Very nicely composed. Well done.' 93 points, Chris Kissack, The Wine Doctor, February 2017.
'Xavier Weisskopf is one of the rising stars of Montlouis, and at the top of the new generation in the Loire. Weisskopf founded Le Rocher des Violettes in 2005 after studying winemaking in Chablis and Beaune, earning his degree in viticulture and oenology, and a stint working for Louis Barruol at famed Gigondas producer Château de Saint Cosme. He acquired nine hectares of very old vines in Montlouis (many dating to the early 20th century) to make Chenin Blanc and converted them in 2009 to certified organic. Now based in the town of Dierre, Weisskopf has 16 hectares that include small amounts of Cabernet Franc, Côt, Chardonnay and Grolleau.' Jason Wilson, Vinous, July 2020.
Xavier Weisskopf is one of the new generation of young producers buying into appellations in the Loire that are less developed, enabling his purchase in 2005 of well established old vineyards at Montlouis in Touraine.
Having studied viticulture and oenology at Beaune he worked as cellar-master at Chateau St-Cosme in the southern Rhone before buying his first parcel of 6.8 hectares. He has gradually increasing his holdings to the current 13 ha of vines with 9 ha of vines in Montlouis and 4 ha of vines in Touraine AOC. Montlouis sits across the Loire on the south side from Vouvray and today is a hotbed of innovation. Here 100% Chenin Blanc is planted on similar tuffeau soils to Vouvray, though usually with a bit more sand. The Touraine appellation also produces Chenin Blanc, along with Grolleau for rose and has some very old Cot (Malbec) and Cabernet Franc plantings. Xavier's deft touch in the winery is transforming this old-vine material into wines of freshness, vivacity and not least, great value!
The entire estate is certified organic and with most of the vineyards being planted pre-1940 the yields are naturally low and all harvesting is done by hand. Xavier is looking for wines that are fresh, mineral and long so the wines are made with a light touch and little or no SO2 during vinification. Bottled with a minimal, yet prudent level of SO2, the finished wines show vibrant aromatics and a level of detail rarely seen from these appellations.