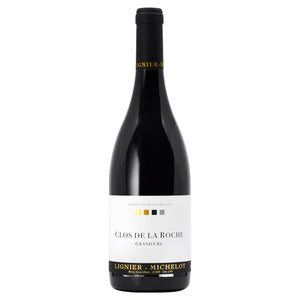 Variety: Pinot Noir
Country Region: France, Burgundy, Cote-de-Nuits
Appellation: Clos de la Roche Grand Cru
'(from a .27 ha parcel, most of which is young vines of 15+ years of age though there is a parcel approximating 15% of the total with ~40 years of age; 80% whole cluster). All but invisible wood sets off the spicier and overtly floral-suffused nose that possesses excellent complexity. There is excellent drive and delineation to the big-bodied and tautly muscular flavors that deliver fine persistence on the moderately austere finish. This powerful effort will need a few years to develop more depth but the underlying material appears to be present for that to occur with time. Drink 2032+.' 93 points, Burghound, January 2020.
'The 2017 Clos de la Roche Grand Cru is matured with 80% whole bunch fruit. It has a very precise, intense bouquet of blackberry, leather, sous-bois and light iris aromas that gently unfold in the glass. The palate is medium-bodied with fine tannin. This is a relatively linear and prudent Clos de la Roche that does not want to let its hair down, but feels reassuringly correct and precise on the finish. Very fine and understated. Drink 2022-2040.' (92-94) points, Neal Martin, Vinous, January 2019.
'The Lignier-Michelot range attains the heights that Morey-Saint-Denis can achieve courtesy of their Premier Crus and obligatory Clos Saint-Denis and Clos de la Roche cuvées. Virgile Lignier told me that he wanted to commence the harvest on September 9, except that rain meant he had to start the following. "That was the first time I ever began the picking on a Sunday," he lamented. He matures all his crus in 30% new oak, so it is the terroir rather than the decision of the winemaker that distinguishes one from the other. This was a very competent set of 2017s from Lignier, where the Clos Saint-Denis steals the crown from his Clos de la Roche and where you would be hard-pressed to find a better Morey-Saint-Denis than his Les Faconnières.' Neal Martin, Vinous, January 2019.
The Lignier family have deep roots in the village of Morey Saint Denis and own 10.5 hectares of some of the very best vineyard sites in this village, and also in the two neighbouring villages of Chambolle Musigny and Gevrey Chambertin. Virgile's father and grand-father had always produced wine and sold it to negotiants until Virgile started working with his father in the early 1990s and he decided to sell the wines himself. Now with almost 20 vintages of experience Virgile has moved the domaine to fully organic viticulture and is producing what many believe to be the best wines of this prestigious village.
In the last 10 years Virgile has modified his wine-making using whole-bunch vinification ranging from 30-100% depending on the vintage and the vineyard and he has also reduced the percentage of new oak (mostly Seguin-Moreau and Francois freres) for maturation with most wines seeing around 30% making its effect seamless in the final wines. He also completed a new winery in time for the 2013 vintage that now enables him to work with temperature control and to gain a very gentle extraction of tannins for all his wines. This results in wines showing great precision and energy with remarkable perfume and also beautiful fine tannins and very silky structure. They are wines which are often very seductive at a young age which also clearly have the potential for ageing superbly. This very young domaine is now regarded among the very best in the Cotes de Nuits.