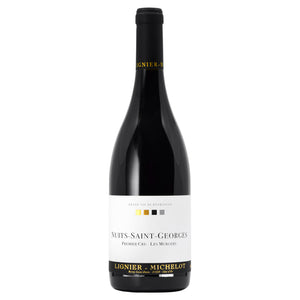 Variety: Pinot Noir
Country Region: France, Burgundy, Cote-de-Nuits
Appellation: Nuits St Georges 1er cru
Just 3 barrels produced yielding one of the most perfumed and seductive Burgundies imaginable.
'(released under the Maison Virgile Lignier label, 30% whole cluster). All but invisible wood sets off a spicy, fresh and cool nose that is composed by notes of assorted red berries, dried flowers and touches of game and earth. There is fine volume to the lush, even opulent middle weight flavors that manage to retain reasonably good detail on the mineral-inflected, intense and wonderfully long finale. This delivers excellent quality with a bit more size. 2021+.' (91-93) Burghound, January 2015.
'Virgile Michelot and Domaine Lignier-Michelot are really going places. This is a Morey producer that has been in the ascendant for several years now, but I feel that 2013 is in some way the vintage where Virgile "cracked it" and will surely set the tone for what is to follow.' Neal Martin, The Wine Advocate.
'2013 is the kind of vintage that I absolutely love. It's a burg geek's vintage par excellence. The best wines are superbly fresh and transparent as the underlying terroir is truly on parade.' Burghound, January 2015.

2013 vintage for Virgile Lignier-Michelot is a water-shed vintage, not only is this the first vintage for him to make wines in his very own winery designed by him giving all the space and tools he needs to be able to work optimally. This vintage has also delivered outstanding quality of fruit enabling him to craft one of the most impressive line-ups of red Burgundy from start to finish that I have ever tasted.
'The Lignier-Michelot range attains the heights that Morey-Saint-Denis can achieve courtesy of their Premier Crus and obligatory Clos Saint-Denis and Clos de la Roche cuvées.' Neal Martin, Vinous, January 2019.
The Lignier family have deep roots in the village of Morey Saint Denis and own 10.5 hectares of some of the very best vineyard sites in this village, and also in the two neighbouring villages of Chambolle Musigny and Gevrey Chambertin. Virgile's father and grand-father had always produced wine and sold it to negotiants until Virgile started working with his father in the early 1990s and he decided to sell the wines himself. Now with almost 20 vintages of experience Virgile has moved the domaine to fully organic viticulture and is producing what many believe to be the best wines of this prestigious village.
In the last 10 years Virgile has modified his wine-making using whole-bunch vinification ranging from 30-100% depending on the vintage and the vineyard and he has also reduced the percentage of new oak (mostly Seguin-Moreau and Francois freres) for maturation with most wines seeing around 30% making its effect seamless in the final wines. He also completed a new winery in time for the 2013 vintage that now enables him to work with temperature control and to gain a very gentle extraction of tannins for all his wines. This results in wines showing great precision and energy with remarkable perfume and also beautiful fine tannins and very silky structure. They are wines which are often very seductive at a young age which also clearly have the potential for ageing superbly. This very young domaine is now regarded among the very best in the Cotes de Nuits.