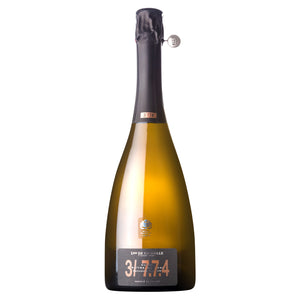 Varieties:
Pinot Noir, Cabernet Franc, Pineau d'Aunis
Country, Region: France, Loire Valley
Appellation: Methode Traditionelle


A blend of 7 parts Pinot Noir (39 %), 7 parts Cabernet Franc (39 %) and 4 parts Pineau d'Aunis (22 %), from the 2013 vintage, cool-fermented in stainless steel, followed by 8 1/2 years on lees in bottle. Disgorged in October 2022 with zero dosage. This Cuvée is truly the quintessence of the house. Maître de Chai, Guillaume Poitevin, wanted to blend wines using three black grape varieties: Pinot Noir, Cabernet Franc and Pinot d'Aunis. Three stands for three grape varieties and 7.7.4 for their proportions in the blend. And 3 + 7 + 7 + 4 = 21 for the perfect balance.
12.32 % Alc/Vol; 4.7 g/l RS; 5.9 g/l TA.
'Subdued in its youthful stages, "3/7.7.4" opens up delightfully to express enticing red fruit aromas. Its ability to open up gives it excellent ageing potential and bodes well for the future. A real revelation characterised by delicacy and smoothness. The aromatic notes are just right without feeling overpowering. The score is played out between an orchard of white flesh fruits and strawberry and bramble plants. A soft and seductive melody with floral notes brings lightness. An audacious adventure, but a gourmet and olfactory success in which body and fruity notes harmonise to great effect. An original concept that has already seduced and will continue to seduce sparkling wine connoisseurs. Try with lobster, the simplicity of a freshly opened Belon oyster, the elegance of Gironde Caviar. For a unique and luxury experience.' Winemaker's Note.


A descendant of Houses Tessier (1859) and then Bassereau (1942), Maison Louis de Grenelle has passionately carried the emotion that its wines have aroused for more than a century and a half. It is the very last family owned house in Saumur and has chosen to keep putting its faith in the cellars carved out of tuffeau to protect the 'fines bulles' sparkling wines that it crafts into delicate, refined and complex styles.
In 1976, visionary winemaker Hubert Bodet and two business partners took over a cellar in decline contrary to everyone's advice. However, time would eventually prove those right who 'dare, work and never give up.' (Xavier Dolan).
In 2009, Hubert Bodet handed over the reins to his daughter, Françoise Flao, who has been involved in the management of the company since 1983, and his son-in-law, Jean Pierre Flao, so they could instil their passion and breathe new life into proceedings. Also inheriting a long-term vision, Françoise Flao plans for the future by focusing on leveraging the artisanal expertise of the winemakers while incorporating touches of modernity and innovation. She continues to favour the path of quality, reinforcing the distinctive Louis de Grenelle style over the years without ever compromising the spirit of the House, which forges close bonds with and helps its growers.
With a team that combines the ardour of youth with the virtue of experience, the House crafts exemplary wines made from all the Saumur terroirs, benefiting from a complex and varied palette of aromatic colours mastered by their winemakers. To achieve this, the decision was taken in 2006 to form a cooperative with partner winegrowers, on the initiative of Cellar Master, Guillaume Poitevin. At first, 12 different winemakers committed to this partnership. Today, there are 24 partner growers working with the house, each committed to the sustainable production of wines befitting of level 3 high environmental value certification.
Through its growers, Louis Grenelle aims to harness the rich substance of the region's diverse soils and terroirs, from the villages of Montreuil-Bellay, Saumur, Le Puy Notre Dame, Martigné-Briand, Cléré-sur-Layon, and Nueil-sur-Layon. The base wines are all fermented in stainless steel and are matured on lees well beyond the appellation requirements.
The result is a range of Méthode Traditionnelle sparkling wines of remarkable finesse and complexity. And of particularly great value.