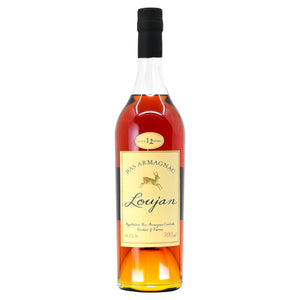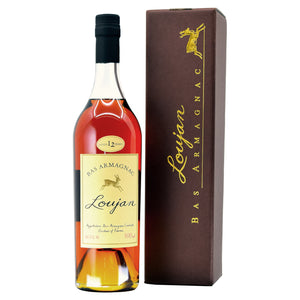 "Gold color with darker tints. Very fresh nose where the fruity flavors are dominant — orange peel, prune. The second nose is spicy showing some matured flavors like vanilla and honey. On the palate, the tannins are round and complex for an Armagnac of this age. It's still very young (fruits, linden taste) but also mature and complex with a high quality of tannins."  Marc Darroze - Armagnac Darroze

Armagnac is France's oldest and finest brandy. Even to this day Armagnac remains a craft industry with small, artisanal producers using historic production methods and little or no advertising or international marketing. All Armagnac is produced in the Gascony region to the southeast of Bordeaux.
Loujan lies within the historical confines of the "Grand Bas Armagnac". The temperate  oceanic climate delivers mild winters, rainy springs, hot summers and a sunny autumn. The retreating ocean, has left behind an acidic, light and rich alluvial 'tawny sand'. The Landes Forest is located close to the Bas-Armagnac vineyards, creating a natural barrier, thus, helping dramatically to regulate the temperature and rainfall. These climatic conditions and soil are a perfect match for producing fine brandy.
Loujan is traditionally distilled in a single continuous still known as , an Alambic Armagnacais. This process of heating the wine until it produces steam, capturing the rich, full bodied aromas in a pure and unaltered fashion, then converting the steam to the final 'Eau de vie", is exactly what sets Armagnac apart from other fine brandies.
Armagnac is typified by its rich, full bodied characteristics, showing  strong primary fruit. It is dominated by dried fruit flavours, with hints of vanilla, leather, almonds and hickory. Aromatics consist of  undiluted smokey and earthy overtones.
The Vines at Domaine Loujan - Baco, Folle Blanche and Ugni Blanc
Serge Valdennaire, a neighbor who also raises his own grapes, cares for the vines. Working with Serge, Marc and Jean Paul Gabard, an environmental soil consultant, we prepare a detailed plan each year to assure the best possible care for the vines. In 2009 we applied to be certified as an organic producer and after the required three year probation period Domaine Loujan was officially certified "Organic" in 2012 and has been re-certified "Organic" each year since then.