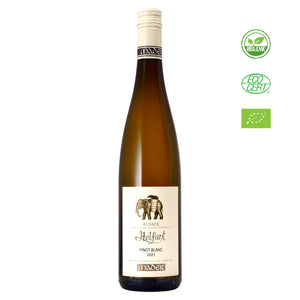 Variety: 100 % Pinot Blanc
Country, Region: France, Alsace
Appellation: Alsace

100 % Pinot Blanc. A new cuvee that Jérôme is particularly excited about coming from the lieu-dit of Helfant which is located above Rosacker Grand Cru and bordering on to Muhlforst and their vineyard shares the same soil as Rosacker bedrock (shell limestone covered with sandstone). Here the Mader vines are 60 yo and in 2021 produced at 30 hl/ha. Raised in old oak and with no malo and fermented dry. Pinot Blanc with depth and character we rarely see and with potential to age though looking so good now it is guaranteed not to last very long.
13.4 % Alc/Vol; 2.6 g/L RS; 7.99 g/L TA.
'Top 10 Best Value Producers in Alsace' Tom Stephenson, The Wine Report.
The Mader domaine is a very small quantity, high quality wine producer based in the picture postcard village of Hunawihr just south of Ribeauville. The family own just over 10 hectares of vineyards, including  prized holdings of vines in the famous 'Rosacker' Grand Cru vineyard and also now in the Grand cru Schlossberg. All vineyard work is carried out by hand and since 2005 their son Jerome is now running the estate having studied and gained a Diploma in Oenology. Since returning to the family estate Jerome has also converted all their vineyards to organic viticulture.
Rieslings here are some of the few in Alsace produced in a classic fine dry style built to age. In exceptional years a tiny volume of late harvest 'Vendanges Tardive' Riesling is made in a similar fine, elegant style that ages superbly. Jerome is fanatical about quality so yields are kept very low and selections for all wines are extremely strict ensuring the highest quality in every bottle. The entire range of wines from the Mader family taste true to their grape varieties and vineyard origins and all represent fantastic value.
In June 2019 their 2018 Rieslings were both rated among the best of the vintage by Revue du Vins de France magazine who have also ranked the estate among the best of Alsace each year.