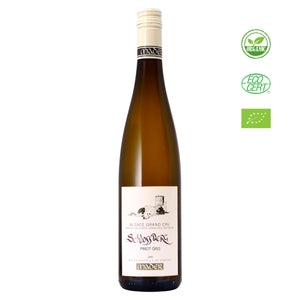 Variety: Pinot Gris
Country, Region: France, Alsace
Appellation: Alsace Grand Cru

Schlossberg is a south-east facing slope from a steep terraced granite block. It became the first Alsace grand cru in 1975. Mader's vineyard is east-facing and the highest on the slope from vines over 20 y.o. giving tiny yield. The wine is whole bunch pressed and fermented with indigenous yeast. Fermented just a couple of grams shy of bone dry, the wine was kept on un-stirred lees for 11 months, building in some beautifully judged struck-match complexity.
In 2021 there was just enough juice to fill 2 French oak barriques, one of them new. To do it justice serve it in a bowl-shaped, 'Montrachet' glass where the tension between the flinty elements, the ripe mouth-filling  fruit and the scintillating acidity is on full display. It's a masterpiece of complexity and power. And the last one. Ever. After the 2021 vintage these Pinot Gris vines were grubbed out and the vineyard replanted with Syrah.
13.57 % Alc/Vol; 2.3 g/L RS; 7.24 g/L TA.
'Top 10 Best Value Producers in Alsace' Tom Stephenson, The Wine Report.
The Mader domaine is a very small quantity, high quality wine producer based in the picture postcard village of Hunawihr just south of Ribeauville. The family own just over 10 hectares of vineyards, including  prized holdings of vines in the famous 'Rosacker' Grand Cru vineyard and also now in the Grand cru Schlossberg. All vineyard work is carried out by hand and since 2005 their son Jerome is now running the estate having studied and gained a Diploma in Oenology. Since returning to the family estate Jerome has also converted all their vineyards to organic viticulture.
Rieslings here are some of the few in Alsace produced in a classic fine dry style built to age. In exceptional years a tiny volume of late harvest 'Vendanges Tardive' Riesling is made in a similar fine, elegant style that ages superbly. Jerome is fanatical about quality so yields are kept very low and selections for all wines are extremely strict ensuring the highest quality in every bottle. The entire range of wines from the Mader family taste true to their grape varieties and vineyard origins and all represent fantastic value.
In June 2019 their 2018 Rieslings were both rated among the best of the vintage by Revue du Vins de France magazine who have also ranked the estate among the best of Alsace each year.