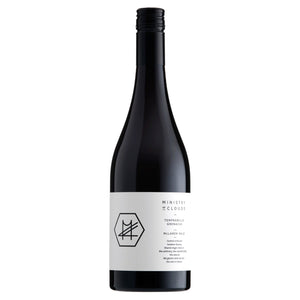 Variety: Tempranillo, Grenache
Country, Region: South Australia, McLaren Vale


79 % Tempranillo, 21 % Grenache. This wine is based upon three vineyards of Tempranillo, from cool sites in Blewitt Springs, the McLaren Foothills and our own estate vineyard atop the Onkaparinga Ridge... blended with old vine Grenache from a range of blocks up to a 101 years of age. Made up of 18 separate ferments picked over a full month to provide layered complexity and retain acid, and ranging from 0% whole bunch up to 40%. Each of the open ferments were from indigenous yeasts and worked very gently to preserve delicacy, and time on skins was extended in 2022 up to 6 weeks to further build tannin line. After basket pressing the wine was matured in a mixture of concrete eggs, old French oak puncheons, and foudres for 6 months maturation before bottling...
This wine combines lifted notes of pomegranate, sarsaparilla, violets and nutmeg typical of McLaren Vale Tempranillo, with the red berried perfume and succulence of old vine Grenache. This medium bodied wine is pretty, but deeply flavoured, and deliberately moreish. A lithe and juicy wine, it errs on the blood orange, cherry, red berry spectrum on the palate supported by a long line of ferrous tannin .
After almost three decades shared experience in the wine industry, Bernice Ong and Julian Forwood decided to have a crack at their own (ad)venture. For them, Ministry of Clouds represents the relinquishing of past security and structure for the beguiling freedom and independence inherent in this, their own voice.
They seek fruit from distinguished vineyard sites mostly in McLaren Vale, but also in the Clare Valley for a crystalline expression of Riesling and across the Bass Strait for a flinty and somewhat wild expression of a Tasmanian Chardonnay. Their reds revel in Grenache, Shiraz, Mataro and Tempranillo fruit from a variety of mature vineyard sites through McLaren Vale, some up to 90 years of age.
Ministry of Clouds produce classic wines that show careful attention to detail, wines that speak of the land, that reveal the essence of the season; wines with perfect ripeness yet showing some tension, restraint and poise complete with crunchy texture, delicate balance and a somewhat modest built. They are wines that beg to be shared on a convivial table consumed with various foods, flavours and textures.