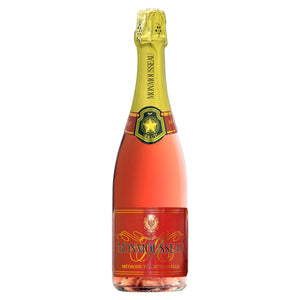 Varieties: Cabernet Franc, Gamay, Carignan
Country, Region: France, Loire Valley
Appellation: AOC Touraine Methode Traditionelle
Made from a majority of Cabernet Franc with a little Gamay and also Carignan. Aged for up to 18 months on lees, this method traditional sparkling shows excellent finesse of mousse and purity of strawberry aromas and red fruits with finesse and great refreshment. The wine has a long fine consistent bead of bubbles. Great value for such quality.
Monmousseau


Since 1886, the house of Monmousseau situated in Montrichard in Touraine, elaborates a selection of highly expressive red, white and rosé still and sparkling wines. The traditional winemaking procedures, combined with the secrets of the House, contribute to the unique character of Monmousseau's offerings: prestigious wines, boasting character, for the pleasure of sharing and the art of living.
The Touraine area: for more than 15 centuries, the vineyards of this beautiful region of France were celebrated by many famous French poets and writers. One of them, Jules Romain, said about our wines: ' They are the essence of the French spirit '. The soil is based on the tuff stone (in which our caves are dug out), covered by granite, clay and flint. Very similar to the soil of Champagne by its characteristics, it ensures a nice balance between the acidity of the chalk and the ' earthy ' taste of clay to its wines. The climate is semi-continental. This avoids excessive coldness in the winter and extreme heat during summer days. It is exceptionally favourable to the growing of particular grape varieties.