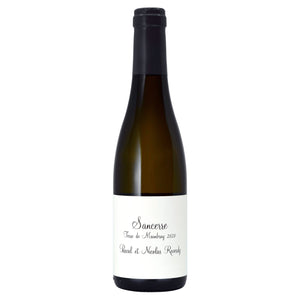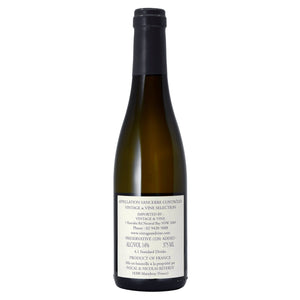 Variety: Sauvignon Blanc
Country, Region: France, Loire Valley
Appellation: Sancerre

100% Sauvignon blanc from 20+ year-old vines, hand-picked and sorted, very gentle pneumatic press and cool fermented in stainless steel. Matured in tank on fine lees for 6 months. Ripe and vibrant gooseberry fruit aromas without excess. Excellent depth of fruit on the palate with texture minerality and excellent depth and character. More refinement apparent each vintage.
Pascal et Nicolas Reverdy
Pascal Reverdy's domaine is based in the tiny hamlet of Maimbray. Maimbray is located in a valley surrounded by chalk hills adjacent to Chavignol and Verdigny. From their small cellar they produce one of France's most highly awarded Sancerres.
The Reverdy's are highly accomplished viticulturists. They take great pride in their vineyards and they make it clear that the quality of the fruit comes from constant work and attention to every little detail in the vineyard throughout the year. The white Sancerre 'Terre de Maimbray' is picked at approximately 13° baumé and shows wonderful concentration of pure Sauvignon Blanc fruit, with chalky mineral flavours adding another dimension.
"Having tasted the range here in the company of Pascal Reverdy, on several occasions, and having enjoyed the wines at home as well, it seems clear that this is a domaine where you can buy with confidence. As I alluded in my introduction, however, Reverdy is not an uncommon name amongst the vignerons of Sancerre; there are approaching a dozen similarly named domaines dotted around the town. Some are better than others; stick with Pascal et Nicolas and you should end up a happy drinker.
The wines perform well at all levels. The Terre de Maimbray cuvées providing a classic Sancerre experience at a good price, but it is the more elevated cuvées including Les Anges Lots and my personal favourite, the red cuvée à Nicolas, that really put this domaine on the map." winedoctor.com