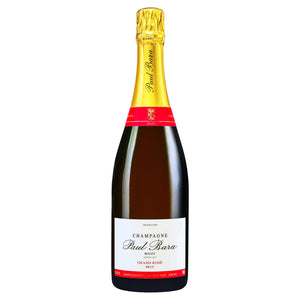 Variety: 82% Pinot Noir, 18% Chardonnay
Country, Region: France, Champagne
Appellation: Champagne

70% Pinot Noir, 18% Chardonnay, 12% Bouzy rouge. The current disgorgement (April 2022) is based on the 2018 vintage (50%) with 50% vin de réserve and a Brut dosage of 7g/l.
'A beautiful rosé that shines with the bright intensity of Bouzy pinot noir and the crystalline definition of salt minerality zapped with tangy malic acidity. A dose of 12% Bouzy rouge lends but a hint of pink to its delicate, pretty, bright straw hue. It's a wonderful expression of the character of Bouzy translated with detail and finesse, filled with strawberry and cranberry fruits and fragranced with rose petals of lifted, lively character. Fine tannin structure melds with salt minerality to provide grip and structure in unison with tangy and persistent malic acidity. It's thrillingly primary and enticingly moreish, with just a subtle allusion of ginger-cake spice beginning to appear on a long finish.' 94 points, Tyson Stelzer, The Champagne Guide 2020-2021.

'The NV Brut Grand Rosé is fabulous. Bright and punchy, the Rosé fleshes out beautifully in the mid-palate and into the finish as the Pinot gains volume. The Grand Rosé has enough charm to drink well as an aperitif, but there is serious depth here too. Cranberry, orange peel, dried rose petal and a hint of cinnamon develop over time. The Grand Rosé is simply impeccable from start to finish. More importantly, it is absolutely delicious. Disgorged: December, 2019. Drink 2020-2028.' 92 points, Antonio Galloni, Vinous, November 2020.
'A multi vintage blend of 18% Chardonnay, 70% Pinot Noir and 12% Bouzy rouge. The latter is the still red wine of the village Bouzy (famous for its Pinot Noir) and from which this wine takes its colour. Salmon pink appearance, so appealing to the eye. With lacy aromas of blood orange, with a touch of orange zest and red currants, the palate is bursting with small red berry fruits, the red currants again, both combining with rose hip notes throughout a medium length finish. Pair this with gravalax (sugar-cured salmon) on arrival and continue on with salmon fillet main if you like.' Frank Wilden, Business Insider Australia, February 2018.

'Paul Bara's Grand Rosé is a beautifully made bottle that really shows the high caliber pinot noir that hails from the village of Bouzy. The wine is fairly dark for a Rosé, with a lovely deep salmon color, and offers up a simply stunning bouquet of blood orange, cherries, sourdough bread, complex minerality, gentle smoky notes and a nice touch of citrus peel in the upper register. Stylistically, this is very similar to Dom Perignon Rosé. Simply a great bottle.' 94 points, John Gilman, View From The Cellar.

Located in Bouzy just to the east of Epernay in the Marne Valley, Champagne Paul Bara uses only their own estate grown fruit from 100% Grand cru rated vineyards to craft it's small range of champagnes.
Their superbly sited vineyard sites have over the years been sought after by many of the top Champagne houses, and while many other producers have been busily expanding, Paul Bara have remained producing the highest quality possible from these same 11 hectares for seven generations. Now managed by Chantal Bara, the beliefs and methods remain true to previous generations, producing very low yields of the best possible grapes from these superb vineyard sites. The great art in the champagnes of Paul Bara remains the same as it always has, it is the stunning purity and depth of 100% Grand cru Bouzy fruit maintained with finesse and balance that is achieved by using such a high percentage of Pinot Noir in the blend.
Whilst the region of Burgundy has enjoyed a huge revival of its fortunes in the past 3 decades as a result of the surge in quality coming from the small growers who are now estate bottling, Champagne is also now seeing a similar surge of interest in small high quality grower champagnes. In Burgundy the best sites for each variety are well researched and have proven their capacity to produce wines of a certain quality level for centuries. Similarly in the Champagne region, the best sites of land are rated and the prices of grapes that can be achieved from those sites will depend on the rating of each site. Bouzy is one of the few villages rated 100% Grand cru and these champagnes come from those superbly sited vineyards.