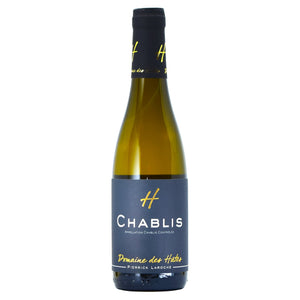 Variety: Chardonnay
Country, Region: France, Burgundy
Appellation: Chablis
As with the Petit Chablis, the domain has nearly 12 hectares planted in the Chablis classification, all of it (like the Petit) planted in the Maligny commune except for 1ha in the little valley of Fontenay heading toward the Grand Crus. He has eight parcels ranked Chablis, and the average age of the vines is 25 years.
Pierrick Laroche and Domaine des Hâtes
Located in the north-west sector of Chablis in the village of Maligny, Pierrick Laroche now runs this family estate which was established by his father in the 1970s. His father gradually gained planting rights and slowly added to the family vineyard holdings over time. Today the current size of the estate is around 25 hectares. In 2010 Pierrick produced his first vintage to great acclaim (his father had previously sold the grapes to La Chablisienne).
Pierrick has a degree in oenology from Beaune and after graduating he travelled the world, doing various internships to gain experience before returning home to start making wine and take over the family vineyards for himself.
His cellars are built into the side of a hill in the village enabling much of the work to be done by gravity. Vinifications are done classically in stainless steel tanks with some of the Premier and Grand Cru wines aged in used barrels for a small portion of each cuvée where the wines undergo full malolactic. His oldest plot of vines is Les Châtillons, which was planted in early 1970s and is located just behind the hill of Grand Crus. This cuvée also has a small portion of barrel ageing, employed to great effect.
Beginning with vintage 2016, Pierrick began a tiny négoce operation to augment his range, buying must from friends farming predominately on the left side of the river. These wines now include the premier crus of Beauroy, Beauregard, and Vau de Vey, along with the grand cru of Bougros. In 2019, Pierrick inherited 8 acres of vines from his father-in-law in the southern sector of Chablis around the village of Courgis. This includes Petit Chablis, 5.5 acres of Chablis, and just over half an acre of the premier cru Les Butteaux.