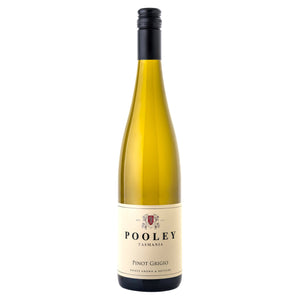 Variety: Pinot Gris
Country: Australia, Tasmania
100% Pinot Gris from the Butcher's Hill vineyard at Richmond.
Alcohol 13.3%, RS 0.0 g/l, pH 3.1, TA 9.0g/l. Bottled 5th August 2023.

'The fruit was chilled to 5 degrees then whole-bunch pressed to tank. Cold settled and racked to tank for ferment. 3 months on fine lees. A vibrant aroma of citrus blossom, candy apple and yuzu on the nose. Bright characters of white peach and apricot follow on the palate with subtle notes of green apple and beeswax. Strong acid and persistent length
finish this lovely wine.' Anna Pooley, Winemaker.

Pooley Wines has an historical property and two separate vineyards in the Coal River Valley in southern Tasmania. The Coal River Valley has developed a worldwide reputation, and is ideally suited, for the production of cool-climate wines such as Pinot Noir, Riesling and Chardonnay. Members of the Pooley family have been actively involved in the business for three generations. Their longstanding passion and commitment to fine wine are your assurance of un-compromising quality.
Pooley Wines was established in 1985 when the late Denis and Margaret Pooley planted ten rows of Riesling and seven rows of Pinot Noir on their 16-hectare farm at Cooinda Vale in the Coal River Valley in southern Tasmania.
In 2003, John Pooley, son of Denis and Margaret, and his wife Libby bought Belmont Lodge, a heritage-listed Georgian home on the outskirts of Richmond. They have been lovingly renovating this second Pooley Wines Coal River Valley property, and planted vines on nearby Butchers Hill. In 2007 the first vintage of Pinot was produced from this steep vineyard site that overlooks the township of Richmond.